UPDATE: One of the links I put in my document to your site gave me this link for some reason.
Windows Update Posting Instructions
I guess it's because I'm logged in here now. I shall follow it for now to see if it has some super detailed, step by step solution to solving Windows updates for my specific computer solution.
- -- --- -- - -- --- -- - -- --- -- - -- --- -- - -- --- -- - -- --- -- - -- --- -- - -- --- -- - -- --- -- - -- --- -- -
Greetings, everyone.
After years of coming here in the pursuit of Windows solutions, I decided to create an account as I am at a point of no resolution. It's a bit of read and ramble, but I hope that it gives some relevant information that may lead up to this terror I face.
https://docs.google.com/document/d/1...kkZUlyVPc/edit
For those who can't take the take the time to read it, the tldr version is this.
The service, wuauserv, located in one of my scvhost.exe instance will use 1/4 of my processor for X amount if time whether or not I click to search for updates. During this time, there are no harddrive read/writes from the process. For some reason, it's now stopped but I have no updates to perform. Here's a picture.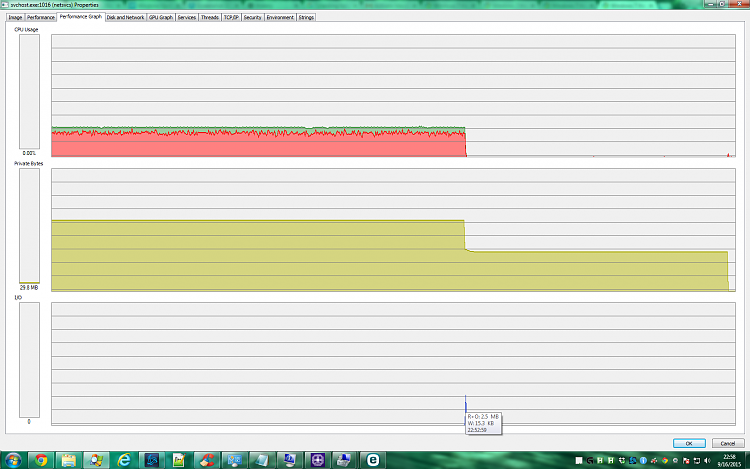 The yellow part peaks at about 1.8 GB, down to 1 GB and then down to almost nothing when it finally stopped. I've checked various solutions. You can read about that in the Google Doc. Basically I am at a point of self defeat.
I cannot get updates even though I know more are there but not given.
I cannot keep service wuauserv disabled.
wuauserv will use CPU even if updates are turned completely off.
I've basically lost control of Windows here. I suppose I could ignore it and play my games since my CPU can handle the quarter use, but this sucks. Nothing solves the problem.
Thank you for your merciful assistance. I would not come here unless I had exhausted myself to a point of nearly utter defeat.