Hi,
i thought I would report back as I think it may be of interest to others.
I am not out of the water yet, although I must have spent over 8 hours on this problem.
In the plus side, I am learning a lot but it is painful ...
So, i followed the advice given earlier and went on a hunt of a MS W7 installation disks. Some time ago, I remembered that I was able to download a 64 bits W7 iso file from Digital Rivers for a test machine I was trying to build. So I set out on the same path but it didn't take long for me to realise that this option has been taken away by MS. Instead MS provide a software recovery which as I am sure you know does not let you download iso files if you have an OEM version of Windows 7. Like many I guess, I am baffled by this: MS took away a very helpful and useful feature when we experience trouble like mine. I am sure that they have their reason, the system must have been abused. Anyway, I considered the following options:
1 - Calling the OEM provider (Asus) and ask whether they would send me some disks.
2 - Calling MS customer service and plead for some spare disks.
3 - Buy cheap disks online.
I quickly discarded option 1, as my machine being 5 years old and out of support, the chances of getting a disk from them are remote. And also I am not sure that they are allowed to send installation disks for OEM versions of w7.
I don't have much hope in Option 2 neither because MS have little interest in letting me have a copy, they have no obligation to do so, they might just maybe just be sympathetic to my cause. And I looked at buying some unofficial looking disks which seemed dodgy. So, what to do? Well it didn't take long to find a torrent source that had the iso file I was after. I followed the advice read somewhere which was to carefully compare the sha1 and md5 checksum against MS sources. This gave me a boost I confidence that I had a genuine iso file. Perhaps one of the lesson to take from this is to always try and get installation disks with OEM to cater for exactly this type of problems.
So, passed the first hurdle, I engaged into the actual repair which went like a breeze thanks to the tutorial. I left it running overnight and in the morning it was prompting me for the product key which I duly keyed in. I spent the next 3 hours sourcing and installing the specific drivers for various devices. And finally, I thought I needed to thoroughly check for malware/adware/viruses. I also installed a well thought of disk imaging system such as Macrium as I had plenty of problems with MS backup/restore. Malwarebytes found some PUP (Babylon) so I proceeded of getting rid of that and the procedure from Malwarebyte site involved using additional tools such adwcleaner and Hitmanpro. After succeeding in this, I have what seems to be a valid system with all my software as they were *but* Windows Update still doesn't work. It starts searching for updating and hangs, never return. I checked that my copy of W7 was correctly activated by entering the key again and checking the confirmation pop-up.
Some more research pointed at some solutions from MS which I tried:
https://support.microsoft.com/en-gb/kb/971058
With no success, MS troubleshooter found quite a few problems and fixed them all except one as seen in the screenshot below.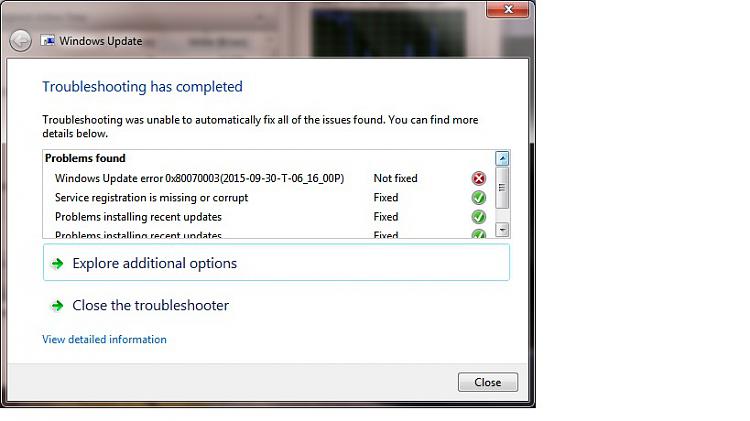 Although after this, the behaviour seemed changed: the windows updates search functin failed with code 80080005 this time. I restarted it again and it is running for a long time now, not looking hopeful. As I write, I am trying to figure out my next move. If anybody has any ideas, please let me know, I will be reading and I will keep you posted.
Thanks folks, the battle continues. I am starting to get bleary eyes though.