I've found this problem on 3 HP Compaq Presario CQ57 laptops running Winows 7 Home Premium 64, where the svchost process associated with wuauserv would hog one core after TrustedInstaller had been running for a while, either on auto or when checking manually. Fresh install helped for a while if I omitted certain updates by hiding them, but problem returned, (I can list them if anyone wants them).
This seems to have now been resolved by KB 3161608 published 21st June 2016, download and run the standalone installer from
https://support.microsoft.com/en-us/kb/3161608
. It is marked as an optional update so will not be installed automatically even when Windows Update is working ok.
The "Checking for Updates" process still takes a while, upto 10 minutes at times, but if you look in Task Manager and TrustedInstaller is still using greater than zero percent processor time then wait, if it goes down to zero and an svchost process shoots up to 50% (on a dual core) and stays there then it hasn't worked. In my experience, it is not worth waiting any longer once this happens.
This is my first post here, hope it's ok and helps some people.
Hi everyone!
My check for update was working successfully until today. I needed to use restore point today but I dont know if that is what triggered Check Updates to hang.
Thanks
Steve
for your post! I would like to ask a few questions about installing KB3161608. If Steve or
anyone else
can help, I would greatly appreciate it.
1)
Can I install this from my computer Windows Update panel
(KB3161608 is an optional update that I had not installed)
or
do I have to use the
standalone
? If I do have to use the standalone, can you please point me to a link that describes
how to install updates as a standalone
?
2) On the KB3161608 download page link you posted, it says that there are
prerequisites
that need to be downloaded before installing KB3161608. Can you please
list the updates that need to be installed beforehand?
When I clicked on the prerequisite link, it led to a generic page.
Also, here is a screenshot of my current optional updates.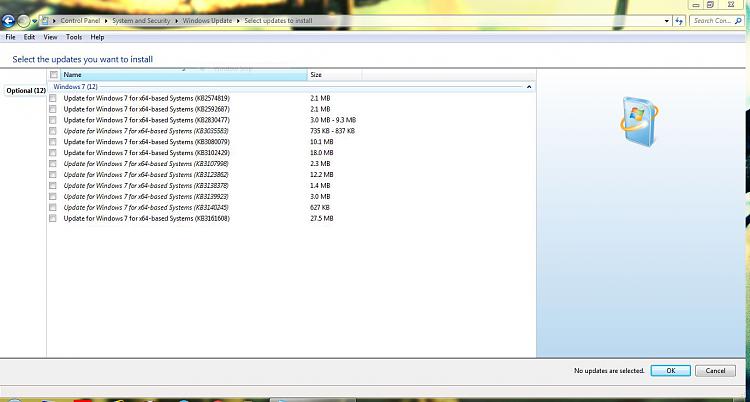 The reason for so many uninstalled optional updates, is that my computer is not compatible with the new windows 10 (too old, sony does not support) and I had been following
Ask Woody
(to the best of my ability) to avoid the imposed win 10 updates.
However, I have the
GWX control panel
that (I think) will help rid me of win 10 afterwards, if any of the optional updates are prerequisites for KB3161608.
I have windows 7 professional x64
Thanks in advance, any advice is appreciated :)
EDIT: I also found a more simplified KB3161608 download page
https://www.microsoft.com/en-us/down....aspx?id=52974
From this
thread Flydaddy post