Hi.
I am having problems with windows when it tries to update the OS but apparently not when it tries to do Apps like Office as demonstrated by this screenshot: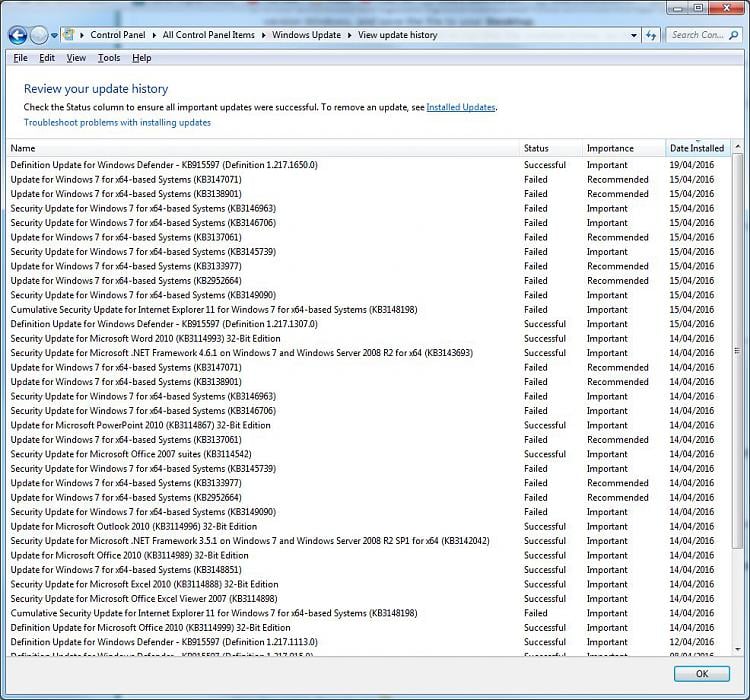 Having looked through the error codes they are as follows:
KB3147071 - 800F0826
KB3138901 - 800F0826
KB3146963 - 800F0826
KB3146706 - 80073AA2
KB3137061 - 800F0826
KB3145739 - 800F0826
KB3133977 - 800F0826
KB2952664 - 800F0826
KB3149090 - 800F0826
KB3148198 - 80073AA2
I have tried the various fixes of un-registering/registering the windows update components as well as clearing the cache locally. I even tried straight out upgrading to Windows 10 which didn't work either :)
Ran SURT and it installed KB947821 (it has done this before)
Ran sfc /scannow (no integrity violations)
The logs are linked below although I did remove CbsPersist_*.cab and CbsPersist_*.log as these were massive and, I imagine, archives.
https://drive.google.com/file/d/0B5d...ew?usp=sharing
Any help is appreciated as I have now run out of ideas