Hello,
I honestly don't know how long Windows Update has been like this on my system, I only noticed just the other day when trying to install Visual Studio Community 2015.
The error code for the update is: 80073712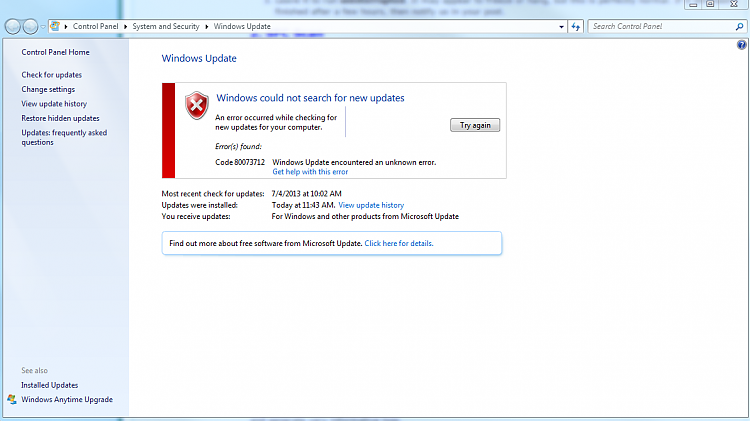 The behavior of Windows Update is the same every time I open it after leaving it alone for a while:
1. I open Windows Update. It tells me there are some updates I should install (10 important, 2 optional).
2. I click Install updates. It takes about 30 seconds, then I see "The updates were successfully installed" with a green check and everything. Cool.
3. I close it then re-open Windows Update. Now says "Check for updates for your computer" with a red X. Not as cool.
4. I click Check for updates. About 10-20 seconds later it says "Windows could not search for new updates" and shows the error code 80073712.
5. I close the window and can repeat from step 1 indefinitely.
- I downloaded and installed the System Update Readiness Tool already.
- Running
sfc /scannow
in elevated command prompt simply shows
Windows Resource Protection could not perform the requested operation
. Nothing in the CBS log. Zip file of CBS folder (C:\Windows\logs\CBS) attached below.
Attachment 392574
-It may help to know I have Service Pack 1 of Windows 7.
Help would be much appreciated. I would like to install several programs that seem to require a more updated version of Windows. Let me know if you need anything else from me, thanks :)