Hello. Here is what happened regarding the repair install of Windows 7 on my dual boot system.
The repair install of Windows 7 seemed to go okay for me while it was being done. Windows XP boots and seems to function okay.
After the repair install completed, the disable Windows 7 Libraries fix was applied to prevent the computer from bogging down (and because I just really don't like the Libraries feature). Then I restarted the computer and let it set there for a bit to sort itself out some more. Then I shut it down so I could reconnect my speakers and the external hard drive. It said "Please do not power off or unplug your machine. Installing update 1 of 101." I didn't expect that, and I thought I would have more time after the repair install during which I could use that convenience rollup thing, but that''s not the way things happened so I let Windows update itself automatically because it was already downloading so much stuff to install, and I hoped Windows would know what order to install it all.
The automatic installation of Windows updates seemed to go okay, after which I installed whatever appeared next each time the computer restarted after installing an update or updates. There were no "Failure configuring Windows update" messages since the repair install.
I had a similar or the same issue with .NET Framework as Kin experienced, which he described in post #55 of this thread. I went to try doing what Kin did for that, but I couldn't see a C:\Windows\Installer folder even when Show hidden files, folders, and drives is selected. (I also don't see a C:\Windows.old folder or C:\$INPLACE.~TR if that's a folder, but I do see a C:\WINDOWS.~Q folder.) I did not try those other things Kin tried that did not help him with the .NET Framework issue that resulted from his repair install.
On my computer system, there was something like that (missing updates in Installed Updates) going on before the repair install. When Brds7t7 suggested uninstalling the February and January Security Monthly Quality Rollups and then trying again to install the most recent Security Monthly Quality Rollup, I went to uninstall those in Installed Updates, but they weren't listed even though they were listed in View Windows Update History as successful.
There was a lot of updates missing in Installed Updates, so i just decided to do the repair install, hoping that would fix whatever all that was about too.
I don't know exactly when all those updates went missing from Installed Updates, or if it had anything to do with following suggestions such as deleting the contents of SoftwareDistribution\Download, resetting Windows Updates with a batch file thing, etc., but the updates all went missing from Installed Updates during the course of this thread. Here is a screenshot taken when I first started this thread after the March Security Monthly Quality Rollup failed. (542 updates installed.)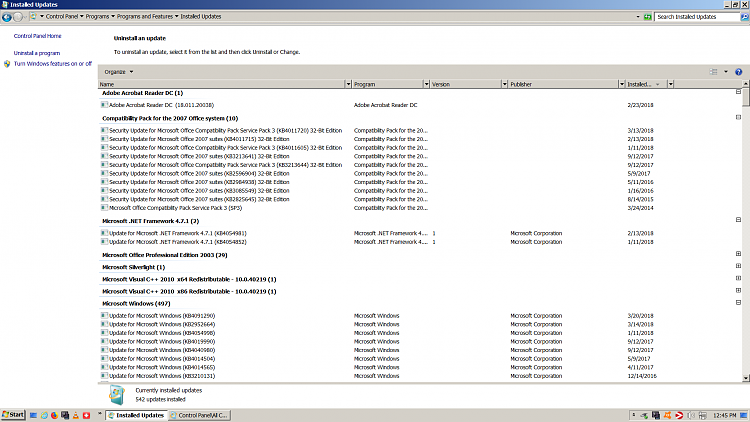 And here is a screenshot from April 13. (297 updates installed.)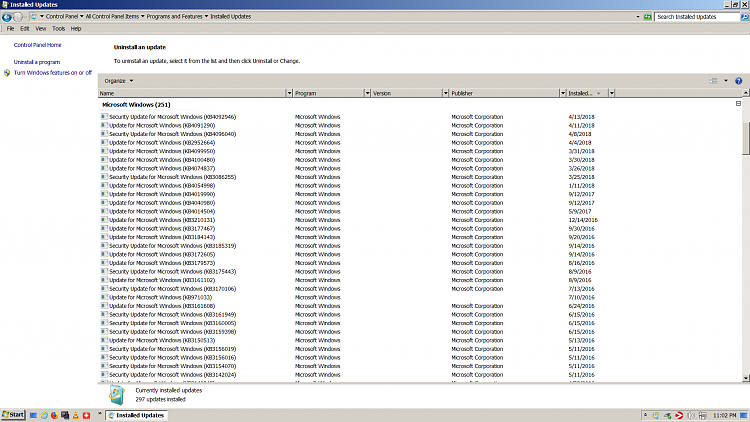 And here is what it looks like now in Installed Updates and Turn Windows Features On/Off. (Please notice .NET Framework 3.5.1.)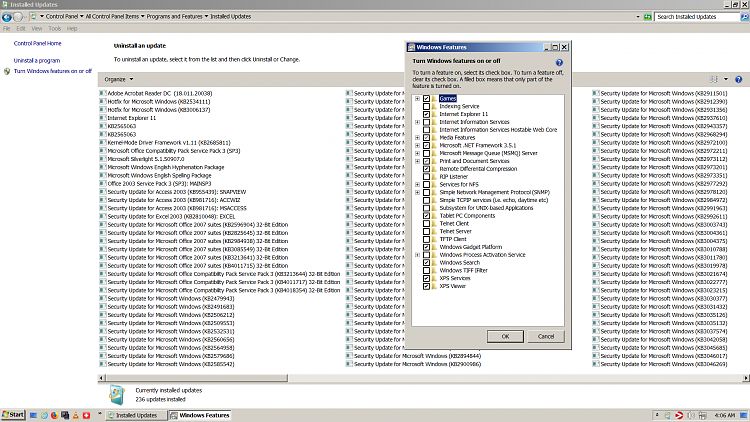 I used an application that depends on (or whatever) .NET Framework to function after all those updates went missing from Installed Updates. That same application does not launch now after the Repair Install, which makes it seem like the current .NET Framework issue resulted from the repair install for me too, as it did for Kin.
During the past day or so, new Windows updates available slowed to a trickle. There has been almost nothing presented in Windows Update besides an update for .NET Framework that the computer keeps trying and failing to install. I switched off automatic updates and unchecked that update in Windows Update hoping the computer will stop trying to install it.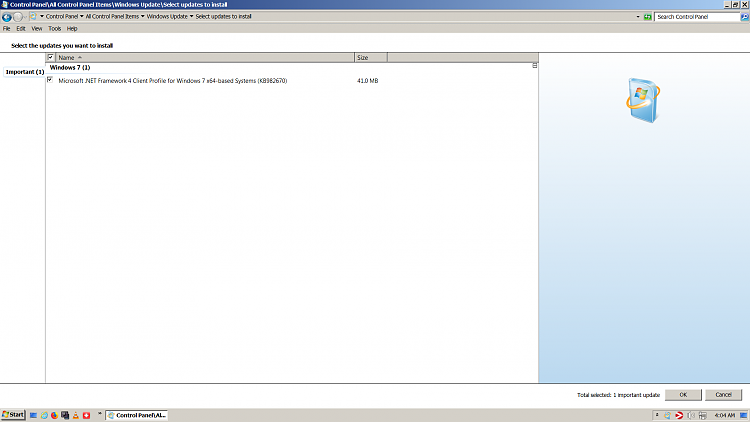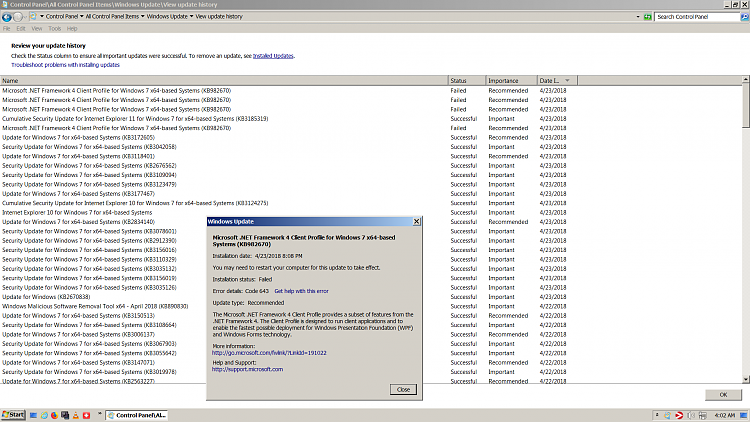 Thank you all for trying during the past month to help me avoid reformatting the hard drive and reinstalling Windows from scratch (clean install or whatever it's called) and for sharing your solutions, Kin. I appreciate it--can't really describe the gratitude I feel.
I am wondering if anyone can think of something I might be able to do to fix this .NET Framework problem and the matter of not being able to see C:\Windows.old, C:\$INPLACE.~TR, or C:\Windows\Installer folders even with Show hidden files, folders, and drives ticked so I might be able to continue using that computer without starting over with a cleared hard drive. I can't even just try what Kin did about the NET Framework matter after his repair install because I can't see the Installer folder.
It seems like none of my problems were caused by malware or whatever. I had Malwarebytes Premium installed on that computer for a long time, I have been in the habit for a long time of frequently running default settings scans and occasional in-depth scans with Malwarebytes and Windows Malicious Software Removal Tool like I'm compulsive about it or something, and I don't go to websites where humans download free (pirated) music, movies, and games or other suspicious websites. And I ran full scans with both Malwarebytes and Windows Malicious Software Removal Tool on both computers prior the repair install. I don't ever see any infections, or whatever it's called, in the scan results. By the way, since I switched from using Avast to Bitdefender on the Windows 7 Home Premium 32-bit computer, only one website has been blocked when I tried to go there. Check out this screenshot. (Please notice the URL/address/whatever thingo.) LOL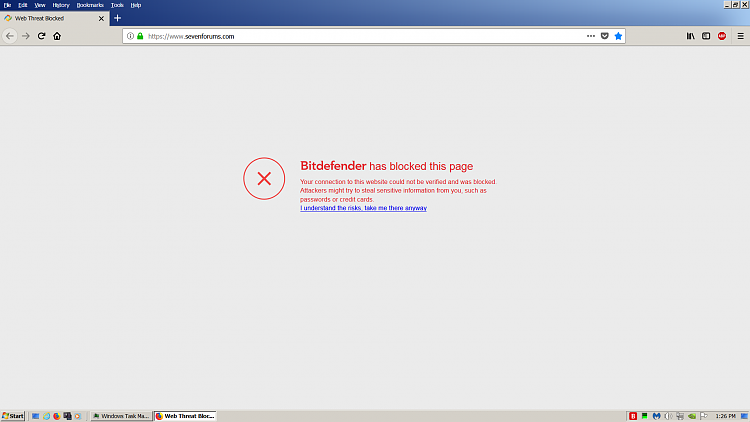 Sorry this is so long. Thank you for reading.