Hello everyone. I need to find where the Desktop icon size is stored in the registry. I already looked into this:

HKEY_CURRENT_USER\Control Panel\Desktop\WindowMetrics - Shell Icon Size
and
HKEY_CURRENT_USER\Software\Microsoft\Windows\Shell\Bags\1\Desktop - IconSize

But neither of these seem to change anything. Even if I change the icon size by using right click [on the desktop] or the mouse scroll wheel, these values don't change at all. So where is this data really stored? Thanks in advance.
Be gentle.
Roderunner
was attempting to help. We voluntarily read 100s of posts each day and at times we miss stuff or interpret it the wrong way.
It would also help us to help you if you would tell us why you want to know this info. That said, the icon size value is stored in one of the areas that you mentioned, but...
...it does not get changed when you think it does
...the number 1 in that registry path will not always be number 1
...the info can get corrupted.
(When that happens, Explorer will ignore whatever is in that "bags" tree.)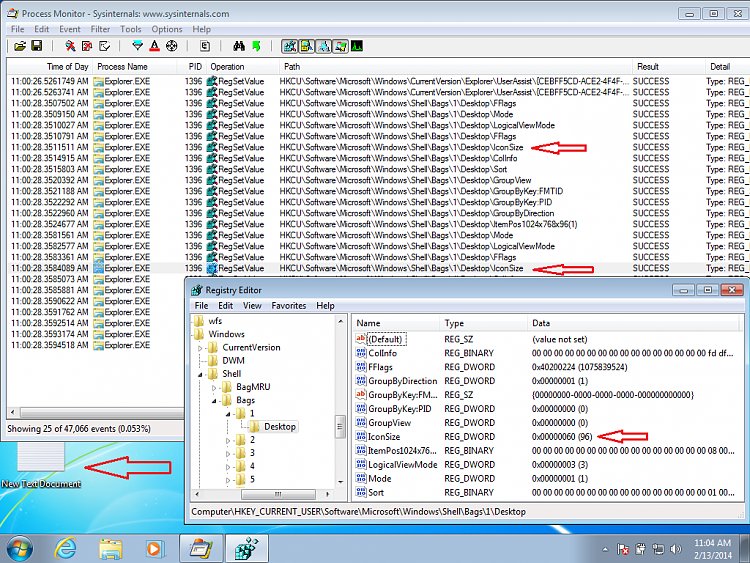 Process Monitor
is your friend

Explorer usually does not write certain info to the registry until certain other things happen. When you change the desktop icon size via right click > view > xxxxxxx, Explorer actually writes the old/current value to the shell bags tree. That is why you did not see the registry value change. If you select the desktop and press F5 (refresh), then you should see that registry value update to reflect the actual icon size. It will also change if Explorer is correctly leaving RAM during a system restart of shutdown. Maybe a log off too, I've not checked.
Again, it would help us to help you if we knew what you were attempting to do. If you want to change the desktop icon size programmatically, then you might run into the opposite problem: you can change that registry value, but the desktop icon sizes might not change until you tell explorer to refresh the desktop. I think that there are other ways to get Explorer's attention other than refresh - but let's save that until we learn what in the world you are doing.