I have learned a lot from this thread - so I thank you for hanging in there and for being willing to spend a bit more time on this. I have learned that I don't understand when resmon should run and when perfmon should run. I also learned that I made some poor choices in the direction that I took this thread. I should apologize to
BrightBlessings
.
BrightBlessings
was the first member to respond to your issue, I should have let
BrightBlessings
drive the direction of the thread.
That said, I'll continue in the same direction and attempt to clean up some things.
If you start Resource Monitor using the button within Task Manager (Processes tab):
1) Do you see a process named resmon.exe in task manager?
2) Or do you see a process named perfmon.exe in task manager?
3) Or are both missing from the list of processes that are running?
Resource Monitor should look like this:
You might want to watch this in the full screen mode and at 720p.
When I asked you to use Process Explorer...
...the only thing that I wanted you to check was:
What was the command line that started perfmon.exe?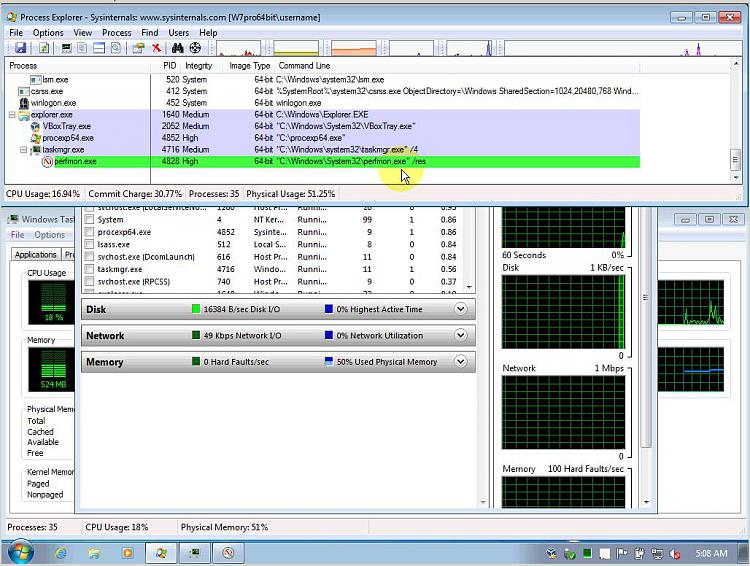 In post #8, I said (in part):
"Wait for
Task Manager
to close and open again."
In post #11, you replied (in part):
"The TM did not close."
Hopefully, TM closed and reopened so fast that your Windows Theme might not have shown you the transition. If Task Manager really did not close/reopen, then we have another issue. Process Explorer can show you one Task Manager closing (highlighted in red) and another Task Manager opening (highlighted in green). If you are not seeing that, then maybe you are not using
User Access Control
(UAC).
You mentioned in post #18 that you did not understand some terms that I used. I think that my use of the term "high integrity level" was/is part of the confusion. In post #1, you mention: "
I have tried to run it from the Task Manager and also by trying it with Administrator rights directly on the .exe.
" For simplicity's sake, we will say that running with admin rights is the same thing as running at the high integrity level.
The problem is, there are many levels that an app can run at. If you have UAC turned on, then Task Manager starts at the medium integrity level. When you tell Task Manager to show you processes from all users, you restart Task Manager with the new one running with admin rights (high integrity level).
Perfmon.exe should run at the high integrity level. In order for Process Explorer* to show you the command line that was used to start perfmon.exe, Process Explorer must also be running at the high integrity level. If Process Explorer is running at the medium integrity level, then it is not allowed to know certain things about the processes that are running at other integrity levels.
*Task Manager (TM) can also be setup to show the command line used to start perfmon.exe. TM must also be running at the high integrity level to show that perfmon.exe command line info. I probably should have stuck with using TM instead of bring Process Explorer and integrity levels into the mix, but I thought that we would eventually use the Properties > Threads tab.
All of this integrity level stuff is extremely important to the way that Windows provides security. Some people are annoyed by the UAC, so they turn it off. Some of those people don't have a clue about the security layers that they turned off.