The method used by most to upload screen shots and pictures is saving it in .jpeg/jpg/jpe format and by using the Snipping Tool and the Attachments (paperclip)
at the top of the
Reply Box
.
If you do not know about the Snipping Tool, please read this Tutorial on it.
How to use the Snipping Tool in Vista - Vista Forums
To start, use the Snipping Tool or whatever screenshot program you prefer and save it as a .jpeg/jpg/jpe.
When you are ready to include a screen shot in your thread/post, click on the paperclip in the reply box, where it will go to the Manage Attachments page.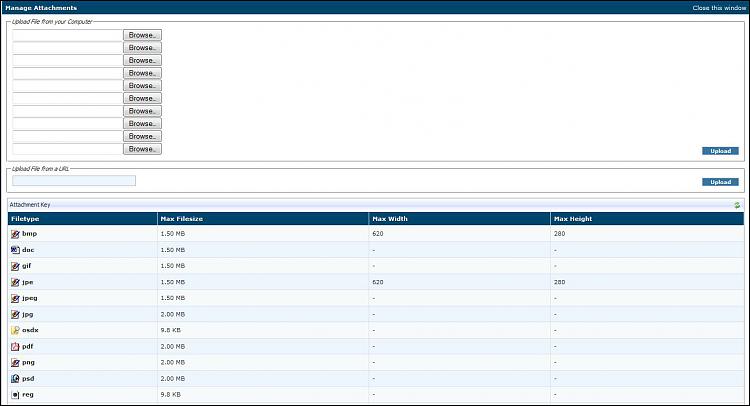 From there, click on the browse button to open up the File Upload window.
Insert your image and click on The Upload button to the right.
You can also upload the file from a URL.
Now, close the Attachment window at the top right.
You can now reclick on your paperclip
..
Pick the file to insert into your post.
It will look like this:
[ATTACH]0000[/ATTACH]
You can then Preview your post to see what it will look like.
This is
not the only way
to do this but it is one method used by many that keeps the threads/posts looking clean instead of having huge screenshots.
SEE ALSO:
How to Upload and Post a Screenshot and File in Seven Forums