1. As I have already told, different programs adopt different algorithms. In a given situation, one program may succeed while another may not. As far as data recovery is concerned, there is no one size fits all and if one fails, you have to try another. It is almost impossible to pinpoint why one failed while another succeeded since a large number of variables are associated.( If you go on repeating the same questions, I shall go on repeating the same answers.:))
2. By definition, you "recover" only "lost" data. If the data is already accessible and seen, why should a recovery program recover it and show it to you? !!!!!!!!
3. MBR is always a
dedicated
first sector of any hard drive, 512 bytes in length. It contains the boot code, the partition table and the disk signature used exclusively by the BIOS/OS to read your drive.
All data you write can only be stored on the other sectors.
If the boot code is corrupted your computer will not boot. If the partition table is corrupted , your OS cannot see the partitions and you won't be able to access the data though all data is there.
If you had backed up the first sector, you may then restore the corrupted first sector and presto you can boot into and read all the partitions and data on it..
If you want more information on MBR, do your own google search.
4. There is only one first sector on any hard drive :) and that is called MBR or boot sector. So the MBR wizard will only copy the first sector of your hard drive. If you see the saved .bin file , its size will be 512 bytes. It will be sufficient if you backup the first sector of your external drive for restoring later.
The snapshots of the contents of the first sector and partition table are just additional information.
The following screenshots of my Maxtor external drive are the snapshots taken with Windows Snipping tool and saved alongwith the backup of the first sector.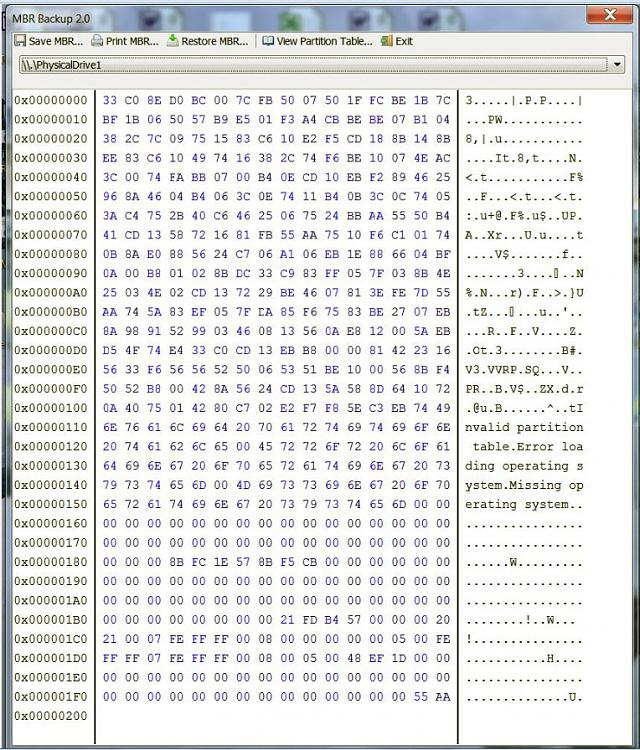 As you can see the size of the *.bin file which is the backup of the first sector is 512 bytes.
The Hex table shows the actual 512 bytes. ( An expert can read it and analyse.)
The Partition table shows the drive has two partitions.
If ever you restore the first sector in a situation like the ones where it had turned RAW or unallocated, you can take fresh snapshots and compare against these to confirm that everything is rightly back in its place. Otherwise, you will keep asking me, "OK. I did all that you said and now everything is apparently OK, but still how do I know what came out only is what went in again?"