Hi KamilFox,
How to run Western Digital
Data Lifeguard Diagnostic for DOS:
( There is no ISO file to burn into a CD in the Western Digital website.)
1. Download Rufus v1.3.2 (442 KB) from
http://rufus.akeo.ie/
(It is just a .exe file that requires no installation. Just click/doubleclick on it to run.)
2.
Backup all data in your pen drive
to another media and then create a bootable DOS pen drive, running Rufus. (You will lose all data on the pen drive during formatting.)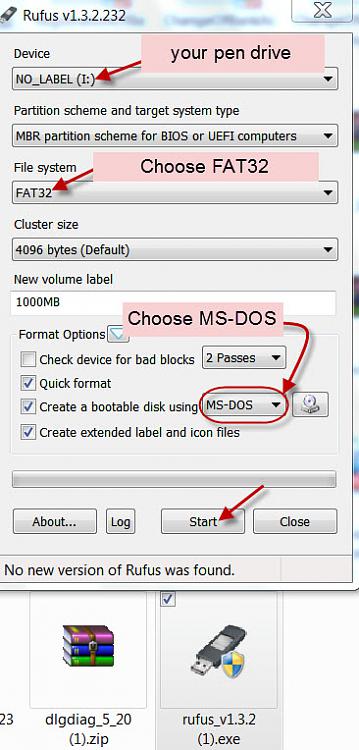 3. Download Data Lifeguard Diagnostic for DOS dlgdiag_5_20.zip 219KB from
WD Support / Downloads / SATA & SAS / WD Black
( Also read the instructions on the page.)
4. Extract the Zip file into a folder. You will have two files dlgdiag5.exe and DLGLICE.TXT. Copy the dlgdiag5.exe into your bootable DOS pen drive. ( Or you can straightaway extract the zip file into the pen drive. Check your pen drive and confirm that the file is there on your pen drive alongwith the DOS files.)
5. Boot from the pen drive and at the command prompt type dlgdiag5.exe and press Enter to run the diagnostics.