Recently updated again to IE10 And I'm still having problems with all sorts of display and rendering problems, I'm kind of glad to hear others are having problems with IE10 (
Misery loves company

).
My latest tale. The wife who uses IE goes on to her company website to print her weekly work schedule.
With IE9 the schedule prints out in portrait at a reasonable font size of 10.
With IE10 it prints out with a font size of 6, the only way to get it back close to the way she is used to is to print in landscape.
Until we can figure this out, I have suggested to her to copy the schedule into our word processor, see what it looks like and make any adjustments necessary.
In my humble opinion, the pre-requsit/platform update
KB2670838
for IE10 is part of the problem. How or why? I'm not sure, but that's my opinion and I'm sticking with it.
I have tried to install IE10 without
KB2670838
, but when I check installed updates it shows it was installed successfully.
Greg, I just thought of something I'm going to try.
Looking at the platform update, it made changes to the Windows Imaging Component (WIC), and the printer settings on our HP,
that would be the second pix advanced settings near the top
, has a setting to allow the printer or the host system to handle Image Color Management (ICM) even to turn ICM off, I'm going to test those settings and see if it makes a difference. Right now it's set for the host to handle and I changed it to printer, after a bit I'll change it to off and see the reaction.
Why or even if printer settings would affect the IE10 operations is anybody's guess, but stranger things have happened with programming relationships.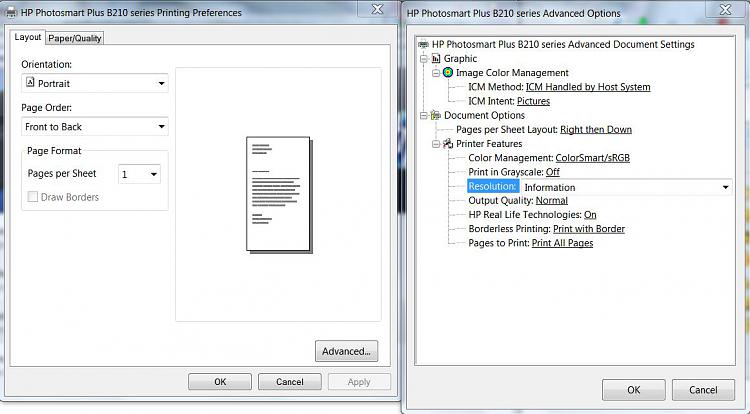 EDIT:
Greg, rather than the solution you posted in your thread starter I'm also going to follow these tips on page two of:
Print size is too small - Page 2 - HP Support Forum - 207443
Scroll down to VisionAiry's post #13