Download Booticex86.rar / Booticex64.rar ( version 1.2.0)
http://bbs.ipauly.com/viewtopic.php?f=2&t=2
as per the system on which you will be running it and extract it to a folder say Bootice. Run the exe file.
EDIT: 09 Sep 2015 The link given above no longer works. Download your Windows Bit version of bootice from
Bootice Download
Softpedia
EDIT: 08 Feb 2016: You may download the current version of Bootice from the author's website
【BOOTICE v1.3.3.2: 功能强大的启动维护工具】-å*é€¸è½©
Select your drive and click on Sector edit.
Clicking on the Partition button will show all details. Please note those diligently. Clicking on an entry on that drop box will show the contents of that LBA (sector).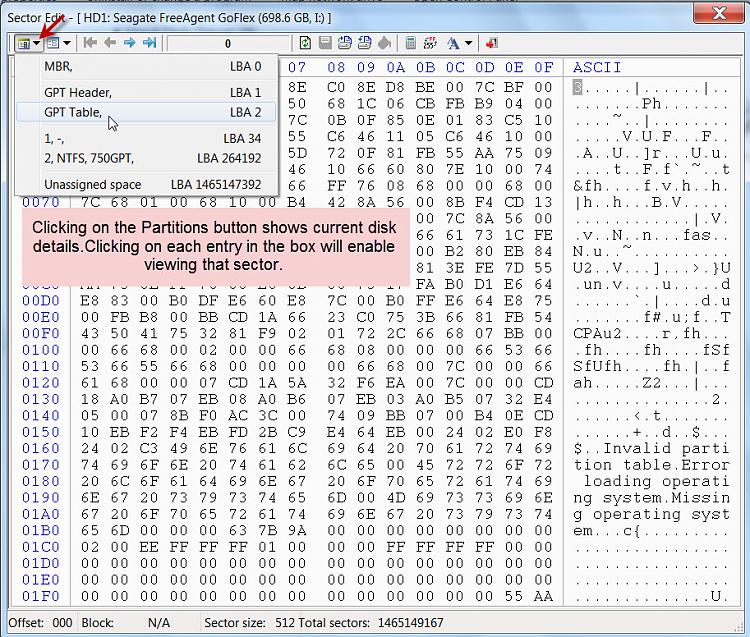 The following screenshots will help familiarising with the functions. Not a rocket science.
Saving any sector is an important task. You will start saving LBA0 (Sector 0), LBA1(Sector 1) and so on upto and including LBA33 and also all the Partition LBAs shown. You can use the arrow keys to navigate to the first LBA namely LBA0 and save it. Then you can increment it with Next arrow and keep saving each sector till LBA33.
For the Partition sectors, click on the Sector Indicator field, type the LBA number and that should take you to that LBA. You can also get that sector by clicking on the entry in the Partition Button drop box as aforesaid. Please save them with distinct naming such as LBA0, LBA1, LBA2 ………..LBA33 and so on with the LBA number.
Note:
1. This saving exercise is only a preliminary action. Should it become necessary anytime to bring the HDD to the condition we started with, these sectors can be restored.
2. There may be some sectors with no data – all zeros. No need to backup those.
To save any sector, click on the back up to file button, give the distinct name and click on Backup. By default the file will be saved to the folder where you have bootice*.exe. Check it when you do the save first time. ( You can also save it to any other folder, by selecting the folder, giving the distinct name and save. You can experiment if you want to.)
Now starts the real work of saving the sector backups that already exists in the last 33 sectors.
Check the last sectors of your Disk from n to n-32 with Bootice. If you find that the GPT backup exists in those sectors, save each sector starting from n to n-32, giving a distinct name as nLBA, n-1LBA and so on. ( Do not replace n or n-1….. with actual LBA number.If you do so, you will be confused as to which LBA is to be restored to which LBA. Follow the instructions literally.) ( I have named the last sector as n sector but you follow it as nLBA, n-1LBA etc........... So read n sector as nLBA in the screenshots.
)
You will not do anything with LBA0 which is only a Protective MBR. Leave it alone now.
Now restore the nLBA to LBA1 (sector 1), n-32 to LBA 2, n-31to LBA3 and so on till you complete n-1to LBA 33.
Once this backup restoration is complete, check whether your HDD is accessible.
Now on how to restore using Bootice:
Select LBA1(Sector 1). Click on the button Restore from file, select the backed up nLBA file and click on restore. Now n-1 to LBA33, n-2 to LBA32 and so on till n-32 to LBA2
At the end of it, let us see whether there is any light at the end of the tunnel.
Even if not, I would think your HDD is now in a better condition for any data recovery – PhotoRec, Test Disk, Zero Assumption Recovery , Getdataback, icare data recovery or whatever.