So as discussed earlier, I needed a power supply for my
backup system
and one of the suggestions was to look at the
EVGA Supernova 1000 G2
. Though I initially balked because I didn't want to spend that much on a backup system, and wasn't looking to replace my
Antec Signature SG-850
in my main rig.
After reading
Johnny Guru's review on the EVGA
though I decided to get it and move the Antec to the backup system. In fact, it was Johnny's review of the Antec that helped me get it. Anyway…
EVGA recommends the fan be facing down when installed at the bottom of the case but I didn't want to do that as the fan intakes air and I don't have a screen on the bottom of my case. Anyway there's enough air flow in the case that it shouldn't be a problem facing up. It's not as though this thing will be pushed to the point of maxing out the fan anyway.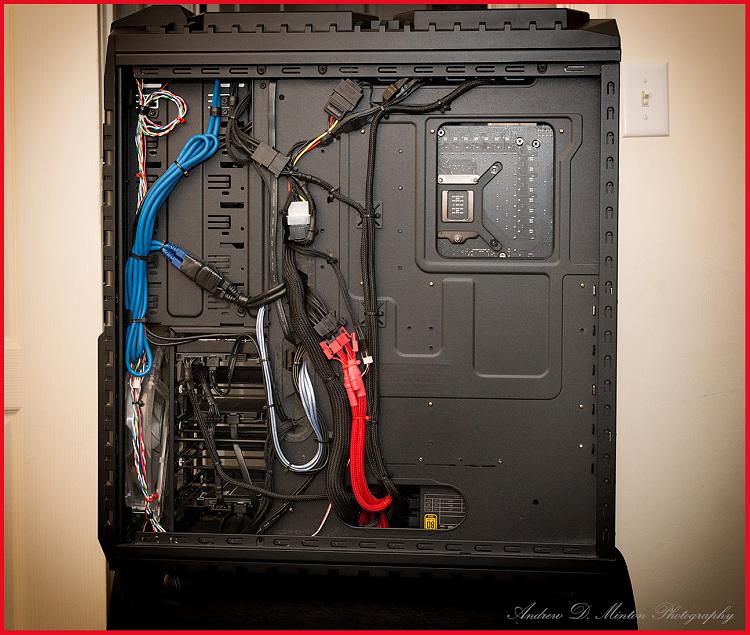 Here's some physical comparisons between to two power supplies…..
Both are solidly built, use high quality Japanese capacitors and parts, and are heavy. The Antec is 80 plus Bronze, whereas the EVGA is 80 Plus Gold.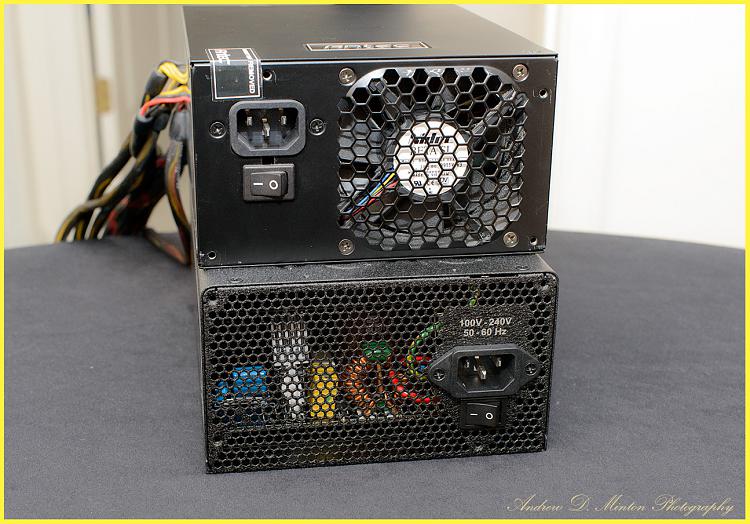 I have to say though I kind of prefer the fan being on the back of the power supply as opposed to top or bottom.
Also the Antec's fan is a lot quieter than the EVGA. In fact the Antec is so quiet I've had to check at times to see if it was still running. The EVGA isn't loud per se, but you'll hear it if you're near it.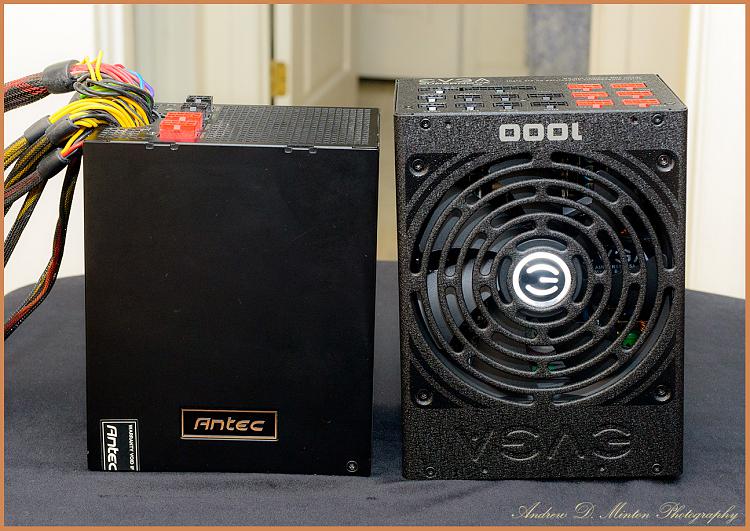 And as you can see, the EVGA is longer than the Antec, though they both have about the same weight.
Love the totally modular design. Makes for really neat cable management. What I don't like, are the exclusively red PCIe VGA cables (shown in system image). Had to use my NZXT cables to hide those.
I can't say I needed a 1000 watt power supply, in fact I don't; but for the price ($140 with credits & rebate through Amazon), and the quality of this thing... what the heck.
I'll install the Antec in the backup later this week.
Peace