I'll try - but first let me issue a warning to others finding this thread:
If possible, it is best to use the normal uninstall method.
Sometimes that normal method cannot be used (as in the case of MourningStar). So there are tools out there that try to clean up barfed/broken installations of Java.
The screenshots below are from a Virtual Machine running W7 pro 64bit.
Java 6 Update 3 (32bit) was installed first, followed by 6 Update 22 (32bit) and 7 Update 40 (32bit).
Download JavaRa 2.3
Download JavaRa - SingularLabs
Open the ZIP file.
Select/copy all of the files.
Paste them somewhere & double click on JavaRa.exe.
Say yes to the UAC warning - if needed.
My steps below include a few more images than
this document shows
.
Start with "Remove Java Runtime".
(Because we are removing all versions of Java.)
Again, it is best to try the normal uninstaller first. I'm not sure why JavaRa did not find any uninstallers. If they had been found, you could select the version that you want to uninstall from the drop down menu, then click on "
Run Uninstaller
". Then repeat this for each uninstaller that JavaRa finds.
In my case, I'll just click on
Next
. (I manually opened the list of installed programs. All were valid installs and I could - if possible - have removed them via that normal method.)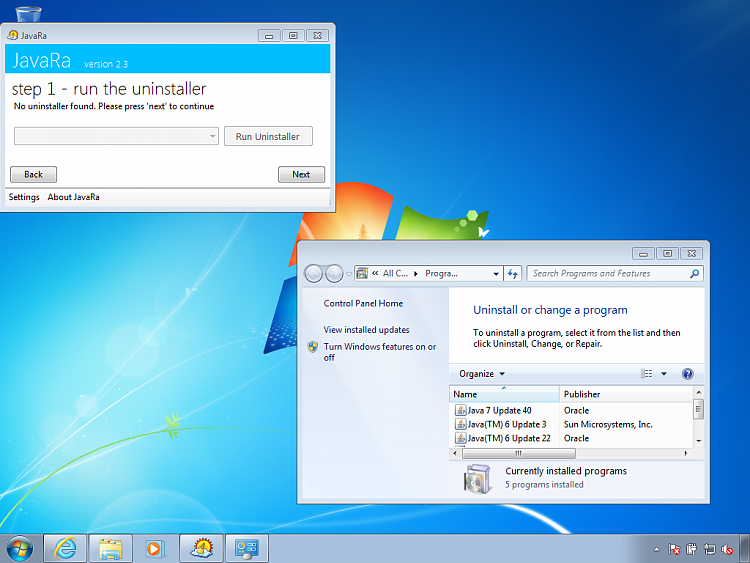 Click on
Perform Removal Routine
.
Wait for the "Complete" popup.
Click
OK
on that popup (shown above) and click
Next
on the JavaRa app (shown below).
Click
Finish
on the JavaRa app.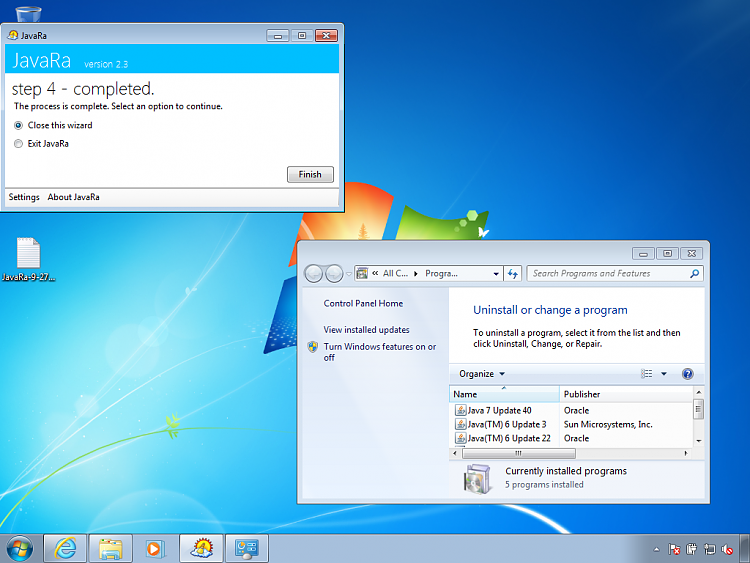 Refreshing the list of installed programs shows that JavaRa 2.3 only removed one out of three versions :-(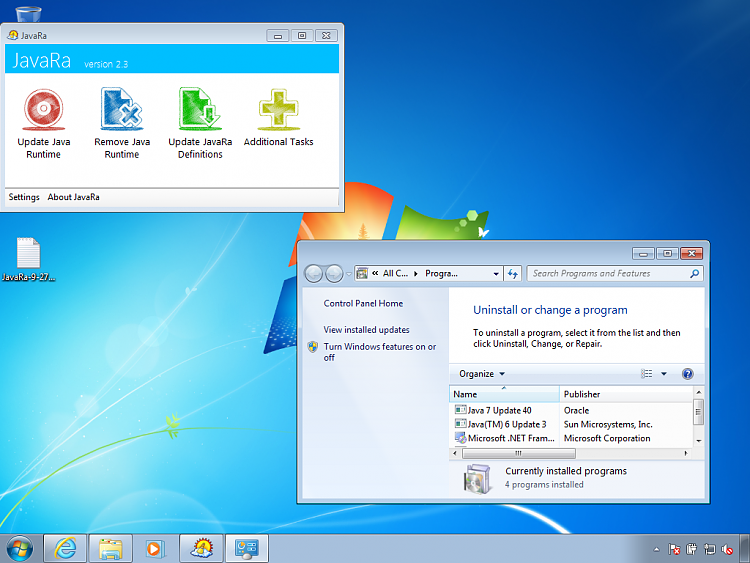 Repeating the steps above claims to remove 116 more items.
The Virtual Machine was reset and the same 3 Java installs were made. The Secunia scanner found nothing :-(