Hi all .
I am using Dell Inspiron N5110 , but i can not use the bluetooth.
I downloaded the driver from Dell ( i'm sure the driver is correct because i downloaded using my service tag ) , but whenever i try to install , it say "Activate bluetooth using wireless switch" althought i have already turn the wireless on ( Fn + F2) .
Here is the driver i downloaded :
And here is the message i received when i install the driver :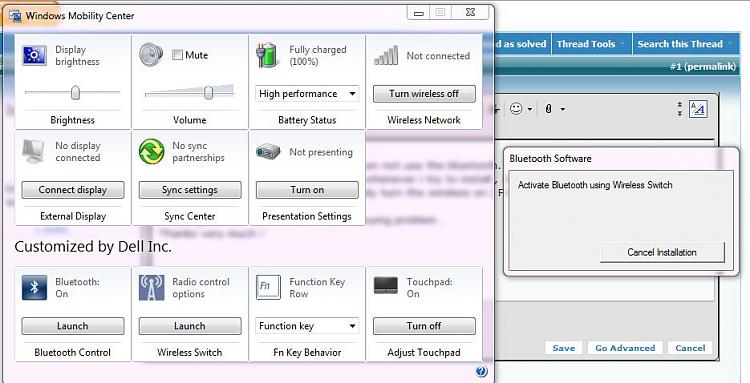 I tried to let windows install the driver it self but there is always an error called Code 43 : Windows has stopped this device because it has reported problems.
After i uninstall the driver, on the device manager the bluetooth device is shown as unknow device .
So i use a software called : Driver Identifier and download a software call BlueSoleil , after installing this, everything seemed to be fine :
But it is just for look , nothing changed , i can not start the bluetooth device, and in the control panel it does not recognize any bluetooth device :

My device hardware ids is :
USB\VID_0CF3&PID_3002&REV_0001
USB\VID_0CF3&PID_3002
Please guide me how to solve this annoying problem .
Thanks very much !