That was some real good thing to see - the solved tick mark - early in the morning when I barged into Seven Forums :) . You did a great job in executing all the instructions patiently without panicking. Since you already had some familiarity with data recovery programs, it made my job easy.
Now here is a tip.
Install bootice (x86 version for Windows 32bit and x64 version for Windows 64bit)
Bootice Download - Softpedia
Save all the important sectors shown in the Partition Table by sector number to another drive..(Each saved .bin file will be 512bytes or 4096 bytes depending upon the sector size of your HDD - 512 for drives <2TB, 4096 for drives >2TB generally)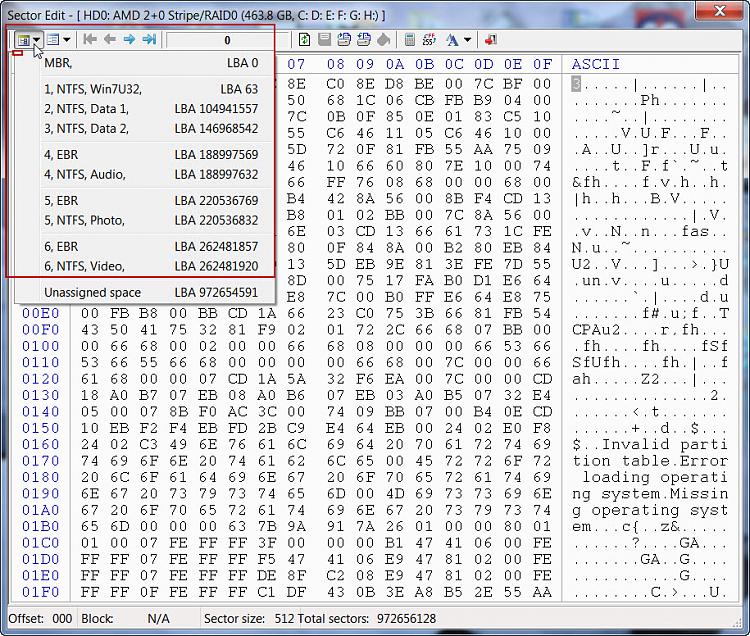 When you encounter any accessibility problems with that drive, simply restore the saved sectors.
In most cases restoring the sector 0 (MBR + partition table) and other Volume Boot Records can make your drive accessible again.
Even if not - in rest of the cases, it will make the process of restoring your hard drive or recovering data simpler.
Your case is an illustration of this philosophy.
Even after restoring the sector 0 (MBR+Partition Table) and other volume boot records, you will still not able to access the drive.
Knowing that everything else is fine - after such a restore, we would have straightaway gone to the last step above - running check disk. There would have been no need for running PW to rebuild MBR, rewrite the partition table and use TestDisk to restore the volume boot record or repair MFT. We were literally groping in the dark trying to do all this only to find that everything was fine :)
Saving with bootice:
Lost partitions!
Note: For GPT drives in addition to the important sectors shown by bootice, you also need to save their backups residing at Sector n (the last sector - backup of the GPT Header), and n-32 ( backup of the GPT partition table (four partitions) for 512bytes/sector drives) or n-4 ( backup of the GPT partition table (thirty two partitions) for 4096bytes/sector drives)