I have taken some footage of a recent trip and want to send a copy of the footage to family. I took the footage on my Panasonic Lumix TZ8 and then transfered the footage onto my laptop. I then edited the footage which is in Quick Time Movie format using Windows live Movie maker. I then saved the movie files as WMV files and burnt them to a DVD using Windows DVD Maker. When the DVD was complete, it said the burn had been successful but the DVD won't play on anything. It is not being recognised on any of my laptops or PC but something has happened to the DVD as it won't let me use the disc again. The laptop is less than 12 months old (it is an Acer Aspire 5551). I don't know what the problem could be. Please can you help!
Easy way to convert your Quicktime video clips to DVD:
Download and install Freemake Video Converter from
Freemake Downloads - Download Free Video Converter - Download Free Video Downloader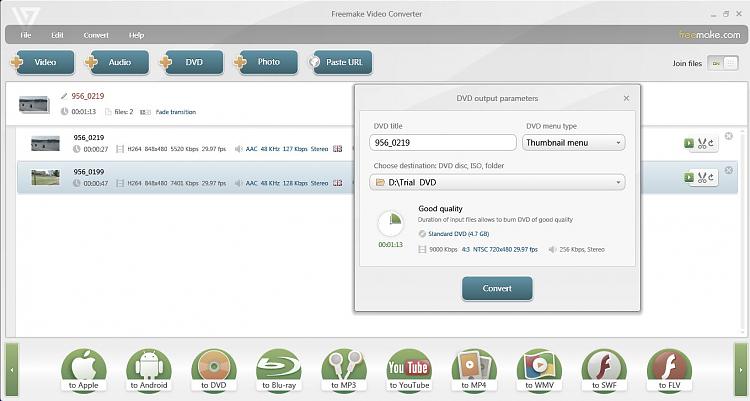 Click on the Video tab and add your .mov files.
Click on join tab at top right and select on to join the video clips. You can add transitions too.
Click on "to DVD" in the bottom ribbon.
In the convert dialog box, you can burn it straight to DVD, or a folder or an ISO image.
Enjoy. (Lemme know how it worked. I just made a quick trial with short .mov files shot with my Kodak HD pocket camcorder and saved the DVD to a folder. Played it in WMP. Couldn't run a fullfledged trial for want of time.)
And ya, you need to install .netframework4 - if your comp does not have it already - for the converter to work.