Since I do not have any BD movie, I decided to try the Digiarty DA player with a home movie BD.
This trial will check out the BD conversion capability of the Freemake Video Converter as also the DA player's capability to play the Home movie on BD.
So the story goes on with the twists and turns of any such trial.
Added 19 short 720p
.mov
video clips (total duration 10 minutes) shot with my Kodak Zi8 Pocket HD Camcorder to Freemake Video Converter, joined them, clicked on "to Blu-ray" button at the bottom ribbon and then on "Convert". Within about 20 minutes the BD ISO was ready to drive the DA Player.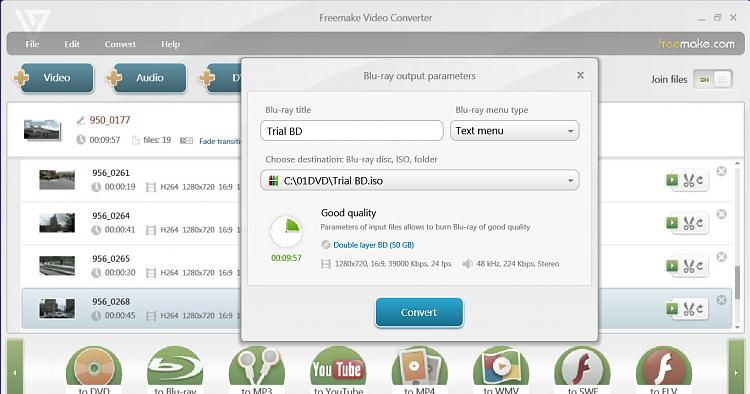 Mounted the ISO on Elby's Virtual Clone Drive and played on with DA Player.
What a disappointment ! While the BD opened, I was only greeted with a still picture. As the navigation bar button moved in steps every 4 or so seconds, the still picture changed to another still picture every 2 or so minutes. The playback was a total failure.
Is something wrong with the BD ISO created by the Freemake Converter? My task is now getting extended. I extracted the
.m2ts
file from the BD ISO and then played the video file with the DA Player. Results ditto. Only changing still images. No movie!
The
.m2ts
file played true on WMP12 and also on MPC-Home Cinema. So nothing wrong with the conversion or the BD ISO too most probably - but let me confirm it more precisely.
So out came my ASUS SBW-06C1S-U External Slim Blu-ray writer (a $129 purchase from newegg ) and my only Verbatim 50GB BD-RE DL disk ( a $17 buy from Amazon). These will also be on trial now.
After some initial hiccups - due to some mix-up on my part -
Windows Disc Image burner successfully burnt the BD ISO on to the disk. ( Even Freemake Converter would have directly wriiten to the BD but at that point of time I did not want to tax my new ASUS BD writer and 50GB Verbatim BD-RE DL for a 3GB 10' movie.
)
Now back to the DA Player and it failed to play the BD. The same slide show.
WMP12 will not play BDs - even with Shark 007 codecs. A known fact.
Opened the BD on MPC-Home Cinema and it failed to open. But I knew why. Shark 007 had written in an earlier post on the how-to. For the first time I am gonna try it. ( And so this trial has many firsts - for me atleast
)
In the Settings application "SWAP" tab check "Use FFDshow for VC1" (Disable Windows Media Foundation will automatically get checked)
Now MPC - Home Cinema opened the BD effortlessly and played the movie grand.
So the Freemake Video converter did a good job, the Windows Disc Image Burner did a good job, the ASUS BD writer and Verbatim did a good job and the BD played true on MPC-Home Cinema + Shark 007 codecs. DA Player failed miserably.
Even a
.mov
file did not play satisfactorily on DA Player. Digiarty now has its task cut - to improve and bring it upto the mark.
Note: Industry-mastered BD is a different beast altogether when compared to the dye-based consumer BDs. Mate Zepher has reported that he has no problems playing the BD movies. So the DA Player can still be a viable option provided the ever evolving new protection algorithms are taken care of by timely updates.
But as a total media player, it has miles to go.
Signing off.