Thanks it's an oldy but a goody, served me well :)
Yes, I've had a couple of issues with updates actually.
First was after an auto update around a month ago, when I started my PC it couldn't find the operating system and I had to manually go into the Bios and choose the boot device every time to get windows to load, but then it mysteriously fixed it's self and started working normally again.
Second issue is this current problem, I believe there was an auto update just before my current issue.
I just noticed that when I restart the PC the Asus bios logo doesn't always show now like it normally does and I couldn't even enter the Bios with the usual hot key, it seemed to skip right past that and load windows.
Just at the point when normally the Bios logo would show up on the screen after start up, there is a message, but it flashes up for a split second so I can't read it, I think it mentioned "PCI" but can't be 100%, it then proceeds to load windows with the current problem.
This morning I've had to restart many times to try and get into the Bios to check the information you requested such as the Bios version, eventually it showed up and let me in with the hotkey, but 9 times our of 10 it doesn't show and just skips to loading windows.
ASUS Exclusive Features :
- MemOK!
- AI Suite II
- Ai Charger+
- Anti-Surge
- ASUS UEFI BIOS EZ Mode featuring friendly graphics user interface <<<<---------------
- USB 3.0 Boost
- Disk Unlocker

The above is from the spec sheet for that motherboard,
can you check the settings for arrowed please.
I've included a screen shot of the Bios (once it finally let me in) and it seems to be "EFI Bios EZ mode"
It seems to be an older version than you mention below though.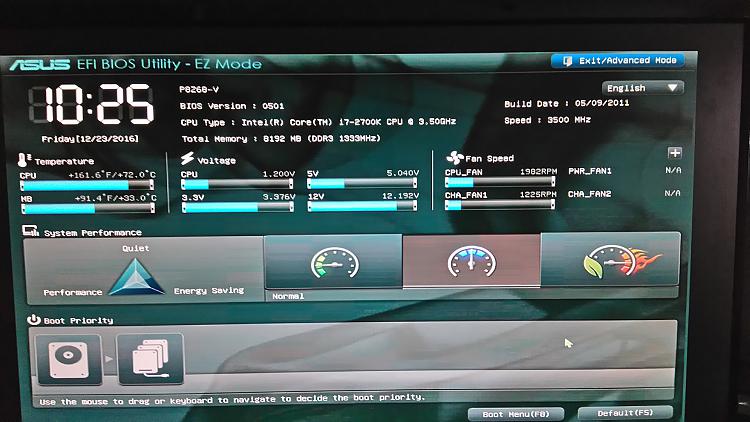 The Asustek link doesn't seem to work, it just took me to their website.
But I did download and run Intel Driver Update Utility you linked and it just showed this one driver as seen in the screen shot here, I didn't download it or anything as I was sure if I should so wanted to check with you first?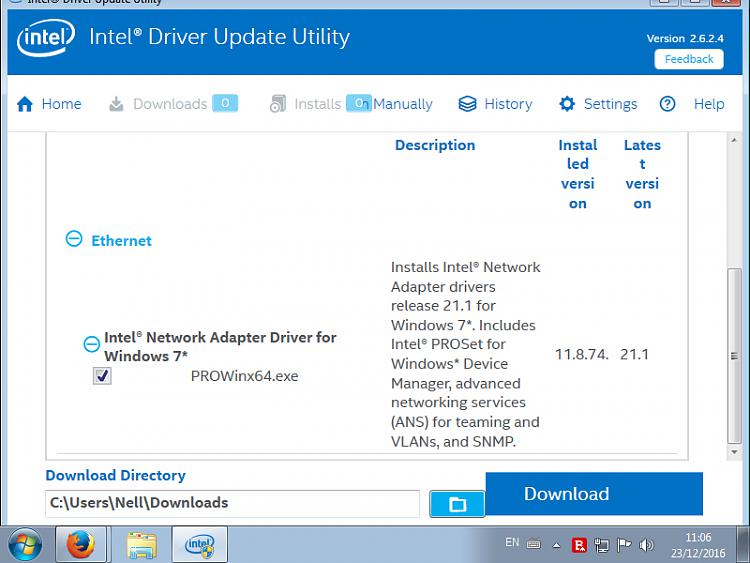 And lastly the latest utilites,
Description GPUTweak2 Ver1.4.0.8
1. Improve: Multiple card stability.
2. Fix: Monitor error when FanConnect enabled. File Size 34.85 MBytesupdate
according to Asus

note if you have fanconnect enabled change to dissabled, any change

If the problem still persists after the above, enter Bios hit the Reset to default option.


Roy
I don't have anything like GPUTweak installed or any other utilities, as I installed a new hard drive some time ago and reinstalled windows 7. The name does ring a bell though so I think I may have had it on the original hard drive at some stage.
I also noticed some other strange behavior such as not being able to sleep the PC (the option is greyed out) and similar small things like this.
Should I try and enter the Bios again and reset to default as you mentioned above?
I have the feeling that those recent windows updates totally screwed something, as mentioned in my first post windows start up repair and the command prompt sfc /scannow both separately said some windows files were corrupt but couldn't fix them.
Sorry for all my questions and speculation but unfortunately my knowledge is very limited on these matters.
Thanks again for your help!
Kaide