Hey All,
I am in some serious need of help.. I have finished building my HTPC Today but unable to correct sound from my intel i3 HD Graphics via HDMI .. Below are the Specs of my HTPC:
Silverstone SG06 Case
ZOTAC H55 ITX WIFI motherboard
Intel i3 530 Clarkdale
4GB Crucial DDR3 RAM
40GB Kingston SSD
Windows 7 Home Premium
After installing windows updates I went to the Zotac website and installed the intel HD graphics and HD sound for my motherboard.. I also installed the Realtek codecs.
I have the HDMI running from my Zotac motherboard into the Onkyo 608 Amp and then from the AMP to the TV via the HDMI out..
The problem is my AMP keeps flickering "HDMI, Multi Channel" on the front visual display of the amp and its actually making a clicking noise (cutting out and then coming back) . " you hear a little bit of the audio but then cuts out and then comes back...and the HDMI and PCM sign flashes a few times and for a few seconds there is sound and then it cuts out again....?
When I hit display button on the remote whilst playing a .mkv file with DTS sound it says input 5.1 PCM and then Multi Channel or something like this but keeps flickering.. ?
Can anyone please advise me as what I need to do? Am I doing anything wrong ..? Is there a setting in the Onkyo 608 or anything I need to do to windows to get everything working perfectly? Do I need to disable the onboard sound card via bios or something to prevent maybe a conflict???
Also just to note my amp is set to HDMI - Through mode but I have tried all the other modes and the same thing happens..
Interestingly enough I installed XBMC onto my windows 7 and when I played the same .mkv file it actually displayed DTS instead of Multi Channel on the visual of the amp and played fantastic surround sound untill it started cutting in and out again flashing HDMI on the front visual of the Onkyo 608.
Please can you guys assist.. Other options I am considering is:
1 - Install linux (Ubuntu 10.04 LTS) and XBMC and see how that goes or
2 - Keep windows 7 and just purchase an ATI 5770 which supports DTS HD MASTER and DD 5.1 TRUE HD.. or will I have the same problems with the card that I am already having?
This is very annoying. please please try and help me out guys
1 - When my HTPC is on and windows 7 is loaded if I play a movie in Windows Media Player on the Onkyo it says MULTI CHANNEL and HDMI logo is on.. after a few seconds the HDMI logo flashes and the sounds cuts out and comes back .. this repeats itself over and over again..
2 - The only way when I press the Movie Preset button on the control to get it to actually output my .mkv (DTS) files to actual DTS is via XBMC (Xbox Media Centre) I go into the settings in XBMC and set the audio out to digital and receiver which supports AC3 and DTS is checked and when I play a movie in XBMC it now says DTS on the Receiver with the HDMI logo displayed but as above again it only lasts a few seconds (maybe 20-30 seconds) then cuts out again and the DTS sign dissapers and the small HDMI logo on the top left of the Onkyo 608 Visual display flashes and then comes back and the DTS is displayed again.. and this repeats its self over and over again..
Please see attached some screen shots which I took just to show you of some of the settings on my HTPC and Onkyo 608.. Maybe I am doing something wrong.. There is obviousleu some kind of handshake issue between the intel i3 HD graphics or the Zotac H55 ITX mother board HDMI output and the receiver.. please help me solve this issue it is driving my looney
1 - This is what the visual display shows on the Onkyo 608 Whilst playing Movie in XBMC before the sound cuts out:
2 - After a few seconds the sound cuts out and below is the display only the HDMI is now flashing at this point and then it goes back to as the above image and repeats its self over and over again...
3 - Here is a screen shot when playing the same movie in windows media player with no DTS support from the AMP?
4 - This next image is in the Audio info display of the Onkyo whilst playing a Movie in XBMC and before it cuts out: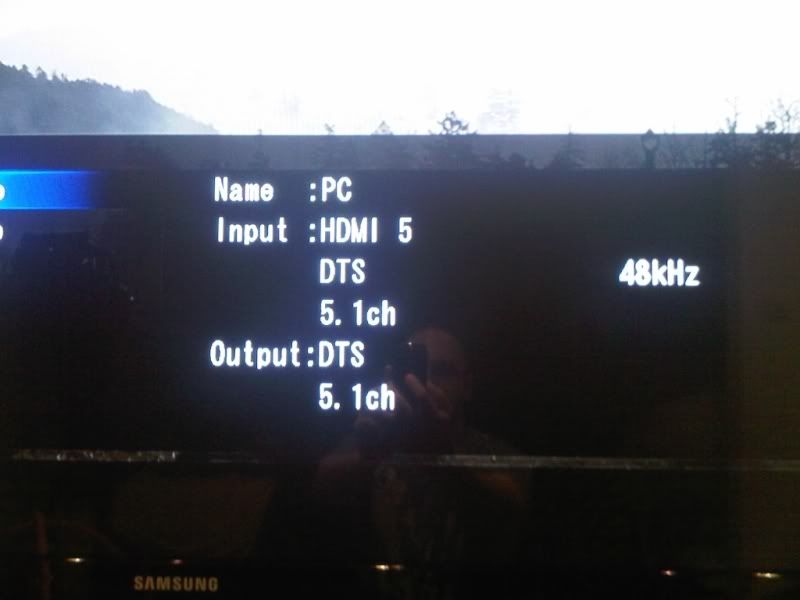 5 - And this is what it displays when it cuts out for a few seconds.. Notice the output infor changes for a few seconds whilst cutting out:
6 - A couple of more images from The Onkyo 608 incase any settings you may spot that I may have incorrect: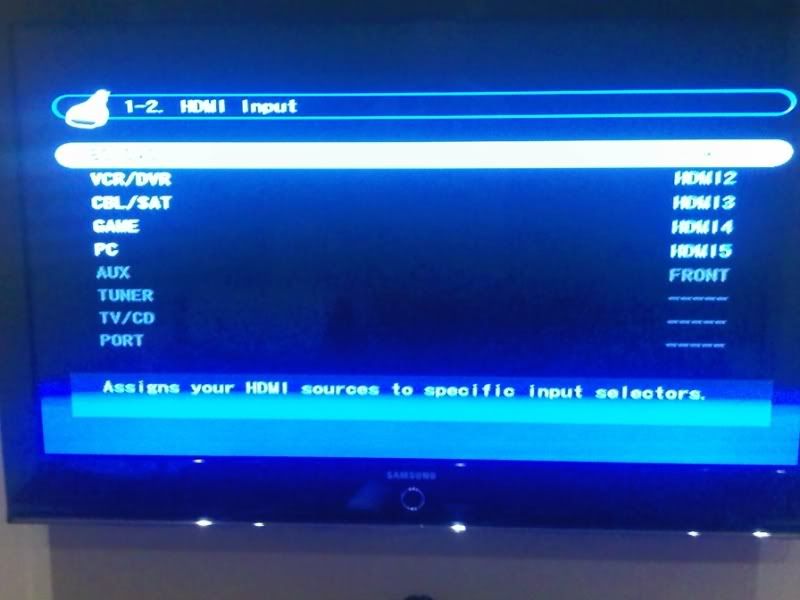 7 - Setting on my TV:
8 - Some Sound Settings on the HTPC
I would really appreciate if you could please help me solve this problem.. Many Thanks in advance...