Hi guys, today we will look at the newest antimalware suite from Panda Security:
Panda Global Protection 2010 beta.
Its also one of the
Windows 7 security providers.


So the
installation
begins:
After acccepting the license agreement, even before the installer, Panda started a
Scan.
Scan finished within a minute.
You will get a Windows Security popup asking if you trust the software.
Also, a restart will be required after installation.
It took around 3-5 mins to install Panda Global Protection 2010 beta 2 and everything went smooth so far.
The update wizard popped up after restarting the system.
Also, an pop up appears to Activate the Product.
After Activation, it provides a 3 months license for the beta.
These are the scanning options. Strange that they did not include a quick scan feature.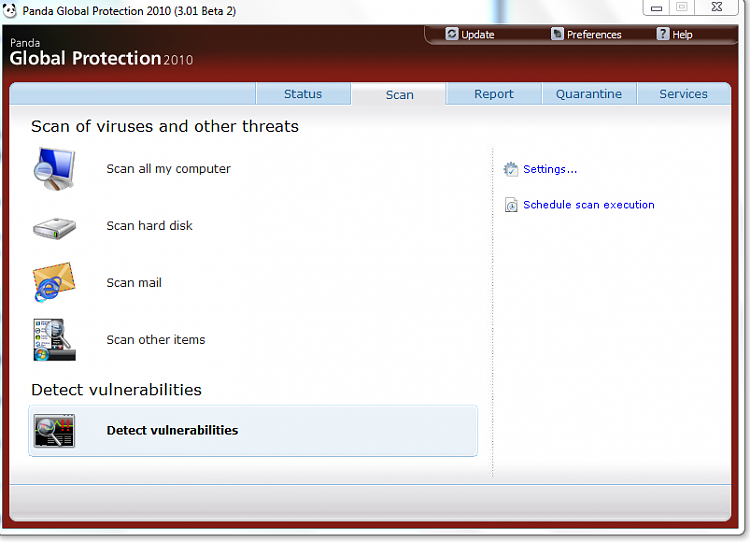 During scan, it uses around 35-40 MB RAM. However, they will have to work on the CPU usage. When pulled up task manager, i was surprised to see that there were actually
16 processes running.
PGP 2010 moved all the suspicious files to Quarantine and deleted all infected items. The firewall is also strong.
The detections are impressive.
Under Preferences, it has options to
reduce CPU usage
and
self diagnosis.

It has a lot of settings that makes Panda Global Protection 2010 highly customizable.
It also has
Automatic Backup
and
Optimize Performance
option.
Overall a solid protection against viruses and spywares. Really impressive and light weight product.
4.8/5.