1.
Check for infection by installing
Malwarebytes
, update, run a Full Scan - in
Safe Mode with Networking
if necessary.
2.
Many issues can be solved by running a free lightweight AV like
Microsoft Security Essentials
with the Windows 7 Firewall for best performance.
3.
Establish a Clean Boot by unchecking everything in msconfig>Startup except AV:
Startup Programs - Change
. After reboot enter msconfig>Services, check the box to "Hide All MS Services," repeat above steps. Check back periodically that nothing has written itself in to either list, turn it off in its Program Preferences or Uninstall it. A program can wait to start until you click on it. Freeloaders slow startup, can be a drag on CPU/RAM, cause issues and spy on you. If you have a question about an item google to find out what it does.
4.
Study the
Event Viewer
>Custom>Admin view for repeat errors to google text and ID# to find out how others have resolved them.
Event Viewer - Open and Use in Windows 7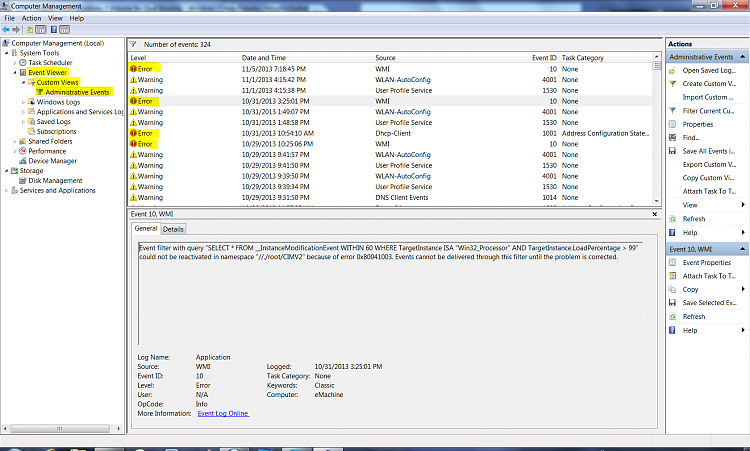 5.
Check also the
Performance log
on Advanced Tools page accessed by clicking your WEI score link at Computer>Properties. Check for cued issues at top of Tools page, Generate A System Health Report.
Look for issues cued in
Action Center
in bottom-right System Tray.
6.
Type "Solutions" in Start

Search box to see if any have been cued for Problems reported or not. Always report problems when asked as Windows 7 is interactive this way.
7.
Enable hardware auto-updating
to make sure you're getting the latest
drivers
via Windows Updates - which should also be
set to Automatic
- then Check for Updates. Install all Important and Optional Updates, after reboot Check for Updates again until there are no more. Any missing drivers can be found on the Support Downloads webpage for your computer or device model.
Driver Install - Device Manager
8.
Test your hardware by running memtest86 CD for 5-6 passes or overnight:
RAM - Test with Memtest86+
. The tutorial will show you how to test individual RAM sticks and slots. Check the slots for debris.
9.
Next test the HD using maker's diagnostics/repair full CD scan:
Hard Drive Diagnostics Tools and Utilities •
HD Diagnostic
. Then run a full
Disk Check
on all partitions, if necessary from
System Recovery Options
Command Line.
10.
Check all cabling is securely connected and in good condition, try reinstalling suspect hardware, swap RAM sticks, unplug extra HD's, peripherals, CD/DVD drive to see if problems disappear. Unplug or remove any floppy drive.
11.
Check temps for overheating by installing
Core Temp
which will allow monitoring temps from System Tray. If running hot
blow dust out of the case using canned air
or
clean out laptop dust
, check all connections carefully avoiding static discharge to components by touching case first,
upgrade or reseat RAM
checking for debris in slot.
12.
Use
Process Monitor
for Application Failures, File System issues, Registry issues, Boot logging, Memory Stack issues, and misleading Error messages which is demonstrated in this
Process Monitor Demo - YouTube.
Type Resource Monitor in Start Search box to narrow down resource hogs.
13.
Check for newer display
driver
, or roll back to the previous version or try another Windows 7 or Vista driver. Turn off or uninstall the accompanying software package.
Driver Install - Device Manager
14.
Some of these steps suggested to
Clean Up Factory Bloatware
might help. On weaker hardware you can improve performance by editing Visual Effects of Sliding, Fading, Animation, Dragging Intact and Selection Rectangle as shown in
Optimize Windows 7 - Windows 7 Forums
.
15.
Run
SFC /SCANNOW Command - System File Checker
to repair any damaged or corrupt OS files. If it won't run in Windows 7 then try from DVD or
System Repair Disk
Command Line using
SFC /SCANNOW Run in Command Prompt at Boot
.
16.
You can try
System Restore
to a point before the problem occurred, if necessary running it from disk
System Recovery Options.
If System Restore doesn't run make sure it is turned on for C: and if available apportion more disk space in
System Protection - Change Disk Space Usage.
17
. As a last resort before reinstall try a
Repair Install
which can fix most problems as it reinstalls the OS while keeping all programs, files and settings in place.
18.
Consider a
Clean Reinstall
which is actually better than getting a new computer with today's bloated factory pre-installs. The steps given are Best Practices based on countless thousands of reinstalls helped with here and the same for both OEM and retail.