Hello everyone! I recently installed a download manager, JDownloader, and afterwards I had this bizarre toolbar, Delta Search, over-running my computer and browsers. (I was able to remove the Delta junk visually but if anyone has experience with this and knows if it's still on my PC, it'd be great if you could share how to remove completely.)

Edit:
I was NOT able to remove Delta. It's back. It takes over my default search engine in chrome even after I remove it. How do I remove this junk?
Edit 2:
It seems I was able to remove the Delta trash by using this guide:
Remove Delta Search (Uninstall Guide)
Edit 3:
Delta is back after restart...
Edit 4:
Okay, maybe it's not back. The homepage in Chrome was delta. Pretty sure I changed that but maybe not.
Edit 5:
I installed their three recommended programs from the guide I linked above, they ran as intended, and even removed some delta items I missed....as well as some other unwanted items.
I still need help with the IEHelper.dll. It's not popping up but I'm not sure what it is or if I should be afraid of it.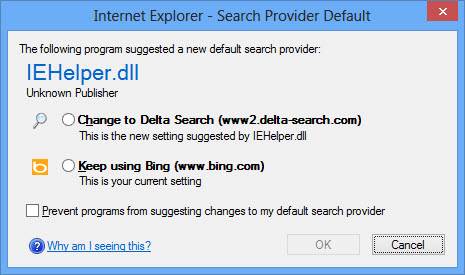 I've never seen this message and I'm guessing it's from installing JDownloader. Although, I've installed JDownloader before and this has never happened. It's all very odd.
I googled "IEHelper.dll" and everything is vague, some says it's a virus though. I'm not too keen on these kinds of things. Does anyone here know if this thing is dangerous and if/how I should remove it?
Thank you.
Edit 6:
I was thinking. Delta changes the default search, maybe Microsoft added the Helper warning thing whenever something tries to change your search engine. Would make sense that it popped up at the same time Delta was installed. Maybe that's all it is. I just can't find any information on it, that's why it struck me as odd.
Last Edit 7:
As "UsernameIssues" pointed out in their post,
IEHelper.dll - What is it? Can I remove it?
, when I installed JDownloader I went too fast and installed Delta which then installed other items such as this IEHelper. I was able to remove all items using the three programs listed in the guide linked above. Thank you.