Sure, waiting for my tablet to charge up (Only thing with a decent camera so I can get some shots of the BIOs) and I'll post up shots of the BIOs running and some screens of Catalyst.
Recovering From A Bad Insyde Bios Flash
That's the link to the bad flash recovery I intended to use had it gone to hell. I cannot attest to it's rate of success as I didn't have to use it.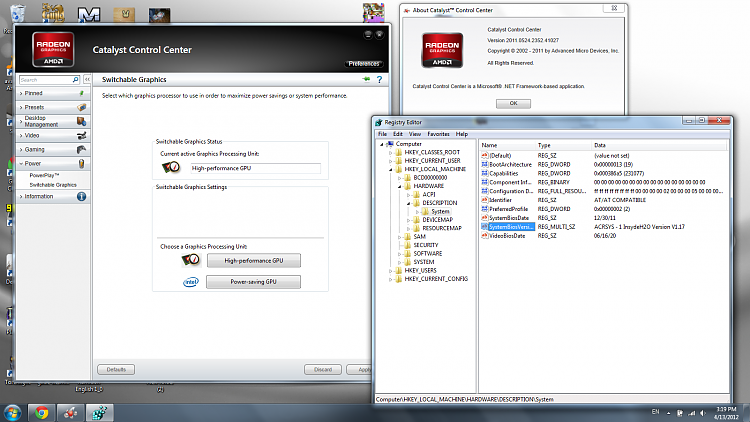 Heres a shot showing the changes to catalyst after I did the modded BIOs, the line in the registry showing my BIOs version (Shows the modded one) and my catalyst version.
WARNING!
WARNING!
WARNING!
In an attempt to view other info I installed AMD overdrive, the system proceeded to bluescreen left and right either during windows start(while loading services and such) or during GPU usage (Games) until I did a rollback (Wouldn't let me uninstall it).
I have not had sufficent time to test this BIOs for long durations so I cannot predict other strange behavior or conflicts with different system utilities. So far it's running great as long as I don't have Overdrive installed, this may also effect other AMD/Ati tools. I will post if any other issues arise and I'll throw up shots of the BIOs asap.