TeamViewer Installation & a few useful features
This is one of my favorite programs for remote connection to other computers
across the internet.
Download the Free personal / non-commercial version.
http://www.teamviewer.com/index.aspx
Setup is easy and straight forward.
You can install it to your HD for repeated use or run it for a once only use.
I installed it as personal / non-commercial use.
Put check marks in the two License Agreement boxes to continue.
I used the Normal (default) installation as you can change the advanced options later.
It is best to install with full access if you want somebody to help work on your computer
or you want to set up yours for remote access from another location.
Then the basic installation is finished.
Now you can test it with another TeamViewer user or another remote computer you have set up.
The Connection screen will show you two panels when connected to the internet. The left side panel
shows your waiting for session ID ( usually a 9 digit code ) and a password code. These are what you
provide to your connection partner to allow them to access YOUR computer. A new password code will be
generated each time you end Team Viewer & exit it, & then run it again. This is for security purposes.
The right side panel is for you to connect to a partner's computer. They provide you with their ID &
password codes for easy connection.
In the next screen snip, it shows how you can setup your computer for remote unattended access from any other
computer where you are. You assign TeamViewer a permanent password, secure to you. Therefore it is best to
check the box "Start TeamViewer with Windows"
Now I have entered an ID & password for one of my network computers & connected to it remotely. I have chosen
an option to have the wallpaper of the remote computer blacked out for easier viewing. The menu bar is located
at the top of the remote computer screen in the center. The big X on the left of the menu Exits & terminates the
connection.
The File Transfer window lets you transfer files back & forth between both computers.
The only problem I found was Win7 does not like letting TeamViewer access to User & Library files,
so I have had to move them to a different folder, usually off the root directory of any of the HDs.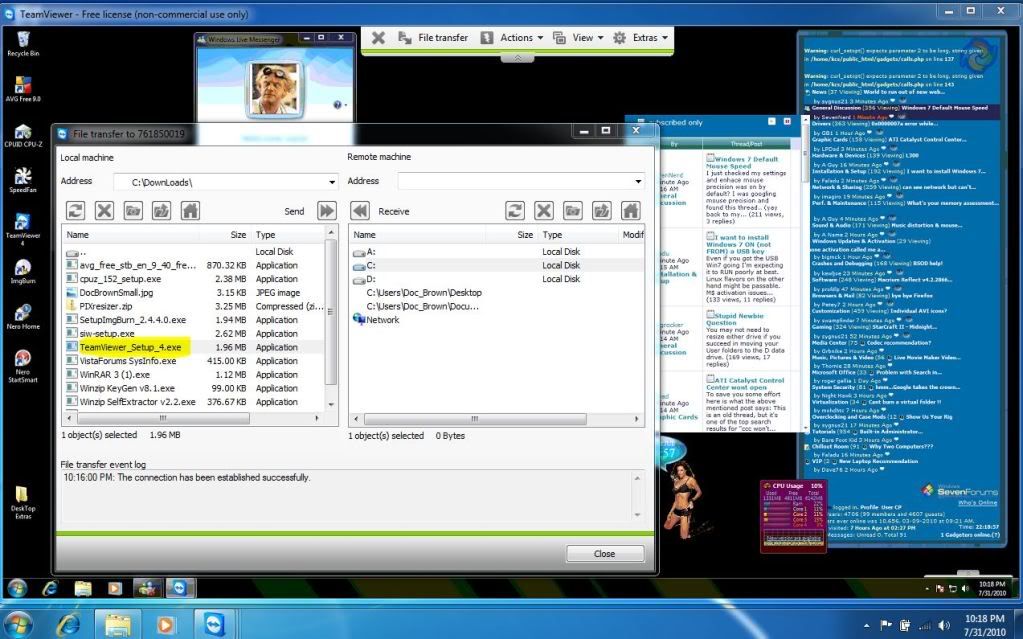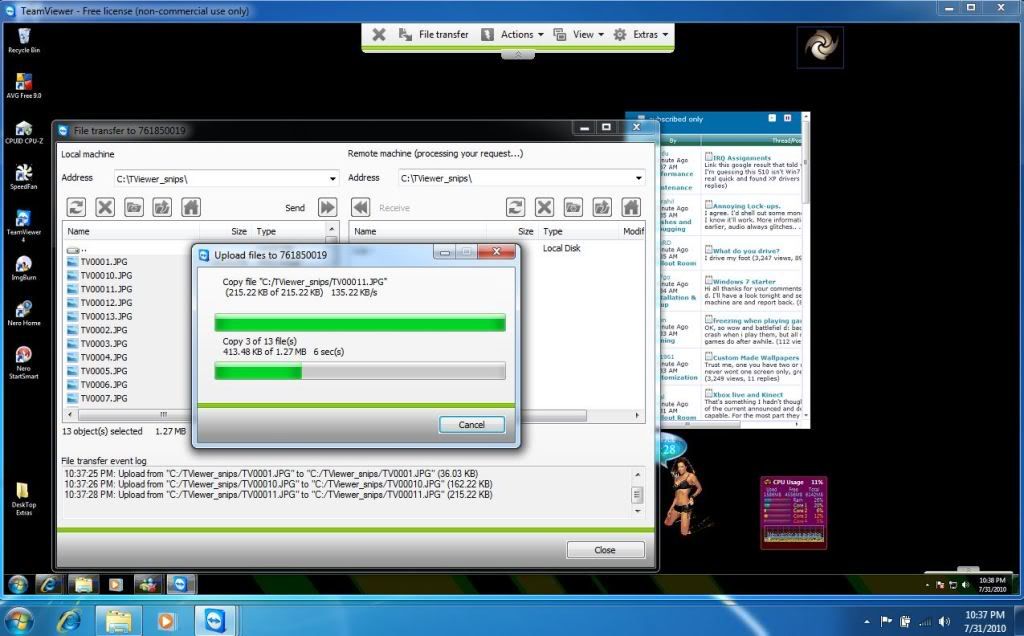 If the remote computer is connected to other computers on a network, it is possible to access certain HD's
and folders that have sharing permissions. By using Windows Explorer on the remote computer.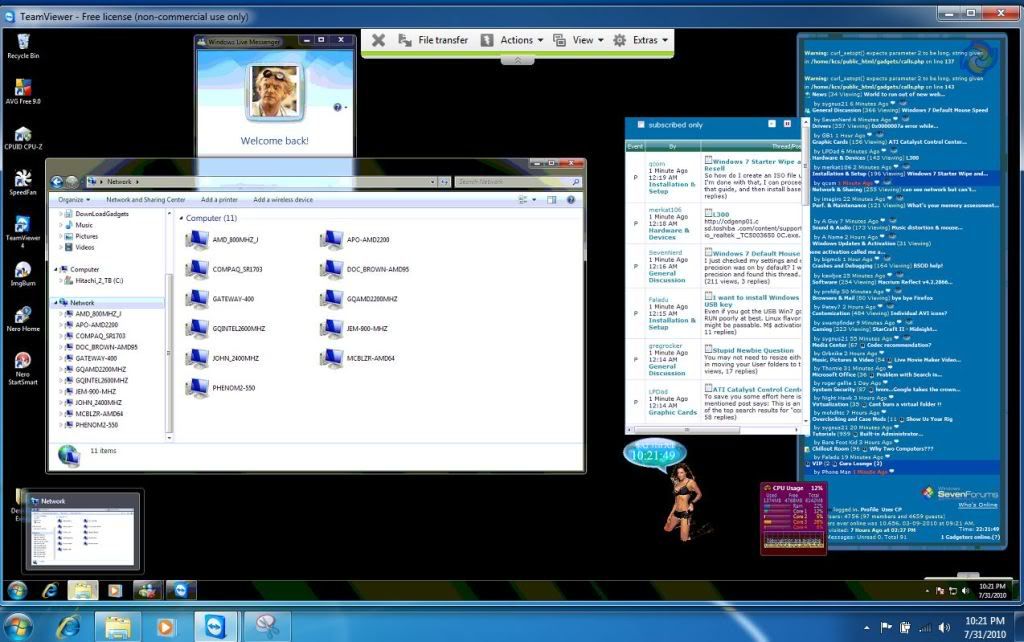 You can even browse the internet with the browser on the remote computer.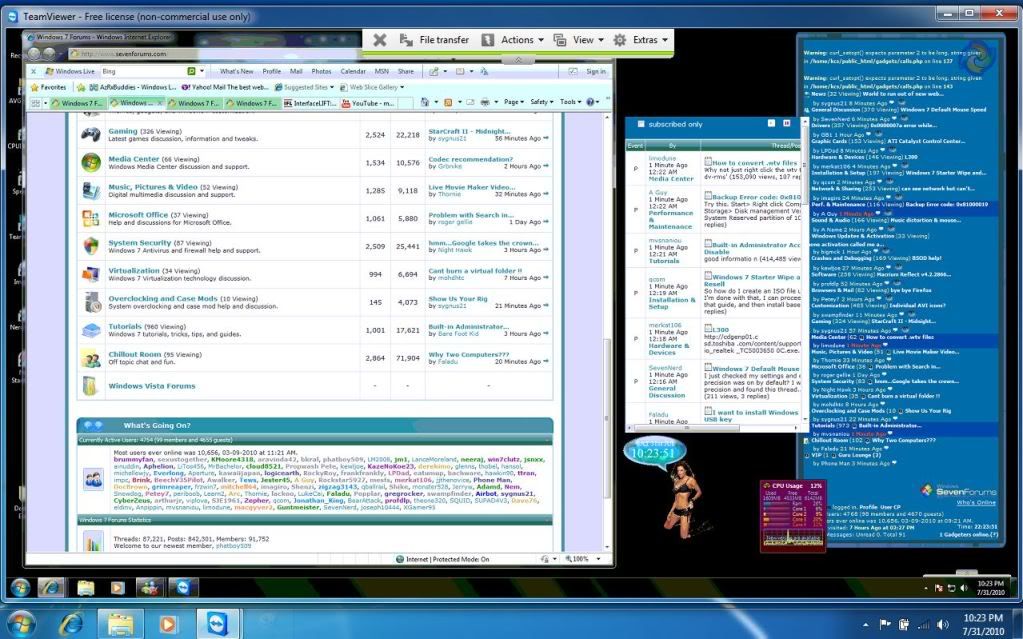 I have had several remote connections running 24/7 for weeks at a time as long as there were NO power failures
or internet (ISP) dropping of the connection. I have even connected a webcam to see views from inside the
building at the remote computer location. The webcam could be turned off or on via the TeamViewer connection.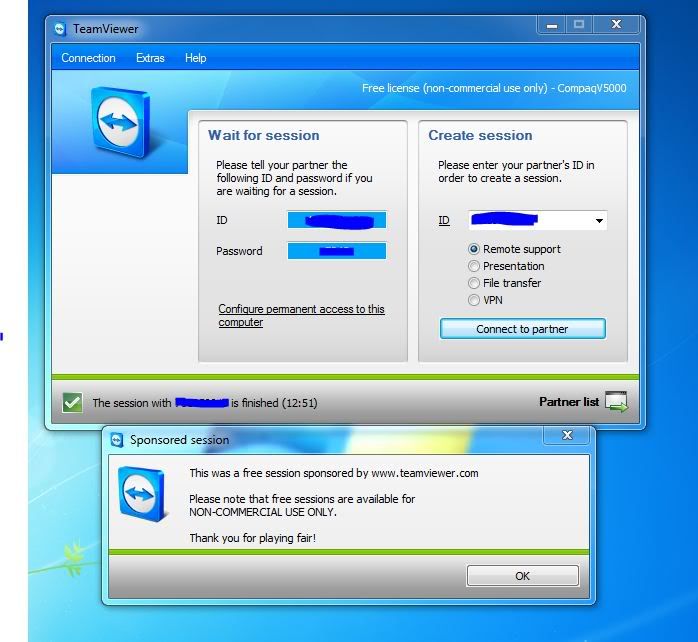 I hope this forum post was informative and that it may encourage you to try and use TeamViewer.