01-03-12, 16:18 GMT

I already had v1.60.1800 running on my 7 box, and wanted to do some type of control, so I used the
Mbam Cleaner
(Direct Download), and then re-installed v1.60.1800.
One thing about doing it that way is the user gets the chance to run a fortnight of trials with the Pro version, and that is what I have on our XP box, with MSE's Real Time Protection (RTP) dis-abled because of
problems mention earlier
.
Here on our 7 box I will try to leave MSE's RTP running for as long as I can...So far the two are behaving, I am not getting the
problems mention earlier
.
Now to answer some previous postings:
I have not noticed any harm to our XP or 7 system.
The
Mbam Cleaner
(Direct Download) Is a 66KB .exe file that should be downloaded to one's Desktop, I also have a copy of the new v1.60.1800 installation File ready to go when the Cleaner is done.
All one has to do is Click on the Cleaner File to open it. Then click Yes on the UAC Dialog box. within five to six seconds you will see its "This utility will remove all components of Mbam, are you sure you want to continue"? Dialog box, click on Yes.
Five to six seconds later "Please reboot your computer to complete the uninstall".
"Do you want to reboot now"? Dialog box, click on Yes.
The dialog box will close, and your machine will start its reboot process.
When it is done it will return to your desktop.
Remember that Mbam installer File? Click on that, and you will see this:
Click on Run.
You will again see the UAC prompt, Do you really want to install this software? Click on Yes.
It will then move to "Select Setup Language" Here you can pick your Language:
Next up is the Mbam Set-up Wizard, click Next:
From here there are six choices to make, sequence is left to right, then down to left:
You the user, will have to decide what is best for you. On the sixth one click on Install, and let the program installer run its course.
You should see this, when done. Click on Finish:
You should see it updating:
Then success!
Click on OK, and you will be back at the Scanner tab of the Program.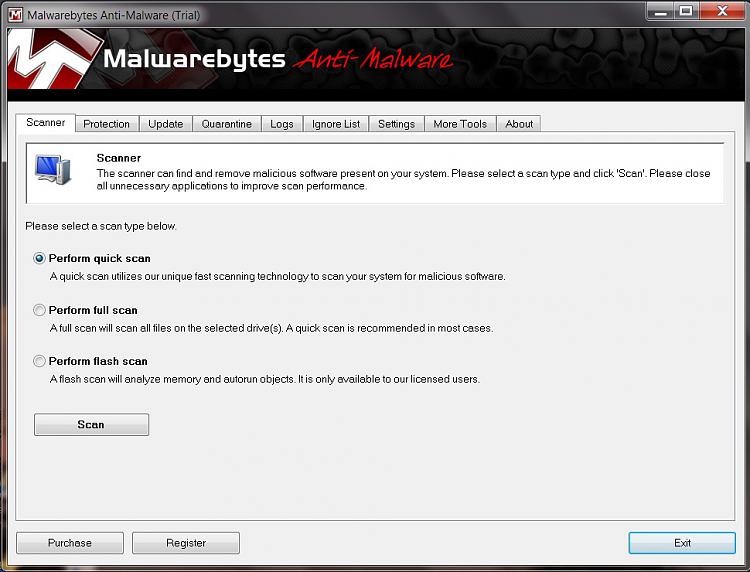 If for any reason you do not see the Free Fortnight Trial, Click on the protection tab, and then on Enable.
This was the second time I used the cleaner, and re-installed Mbam, and I believe it was an artifact.
I did not see the dialog box asking if I wanted to do the free trial, so I went to that Tab, and enabled, and it was turned on.
Now for Sir Golden:
As of the time of this post I can know you are correct in your statement!
I have both RTP's enabled on our 7box, and you would not believe the amount of editing I have done to produce this post...And, not even a whimper out of either of them!
Unless there is some anomaly with your XP system, Golden is correct.
Some useful links:
malwarebytescleaner.exe
Direct download.
Mbam Common Issues, Questions, and their Solutions
General Malwarebytes' Anti-Malware Forum
If any of the links in this thread do not work please let me know!
Anak....aka....Steve