You guys move too fast for me, I can't keep up,

but I'll try to answer your questions later.

Thelma,
Open an elevated command prompt
and either type, copy and paste this exactly as shown where the blinking cursor is, those are single spaces between the operators
dir /s /b c
:
Code:
dir /s /b c:\Windows\audiodg.exe
Then tap the enter or return key. you'll hear your machine working for a bit and you should see seven (7) entries like this: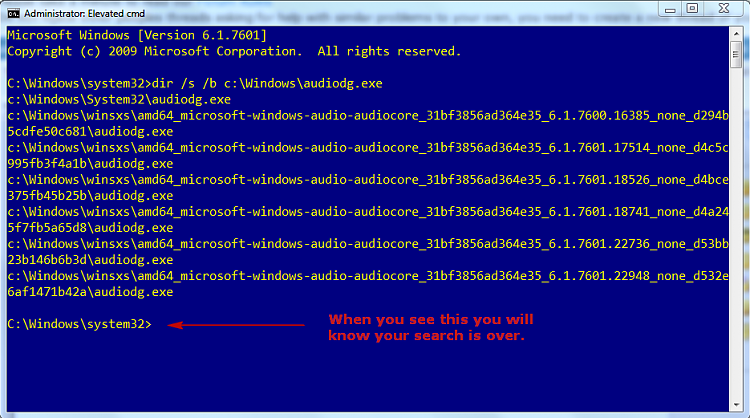 Do you see any, all or none?
Off topic in the order I seen them:
I'm from Harrisburg, PA, but live about 10 miles Northeast of there in Cumberland county.
I'm happy you like the grammar program and it is working well for you.
That's why I need you to run the search above to see if you have any audiodg.exe files left on your machine, malwarebytes (mbam) has a nasty habit of removing them.
I get about 4 or 5 hours a night. Woke up with a crick in my neck of the woods.
When you and your friend cleaned those filters, were you careful not to knock anything loose, was the cleaning around the time you lost the sound??
You can step away, just let me know so I can move my foot.
If it is hardware what other than the plug do you suggest?
Yea, I have 15 new updates to scrutinize. Cooking? did someone say cooking?
Pale Ale, Strohrum's? I like my Scotch, but will take a guinness stout or bass ale.
Power out? yea, I was in bed, we had a slight chance for showers/ T-showers, but it turned out only moderate showers this morning.
Later.....Will be busy for the next few days, a good neighbor friend of 36years passed on Tuesday he was 86, will be going over to help the widow, funeral on Saturday.
When it rains it pours, eh thelma?
Clear skies everyone,
Steve